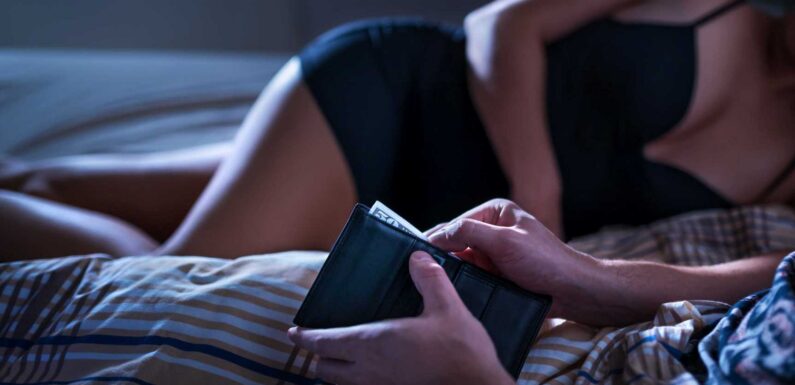 A CHEATING wife has told how she's desperately trying to keep her affair a secret from her husband – as her lover is funding their family though the cost of living crisis.
Jennie, from Perth, received a payment for £301 alongside over seven million households from the government last week but claims the cash barely scratched the surface.
Instead, she's been carefully spending the supplemental income from her affair in an attempt to avoid raising suspicion.
But her other half has started asking questions that have her thinking she might be rumbled.
She says: "I didn't go into this wanting or even considering money. I'm not that type of person, I'm not a scrounge and would never ask for anything.
"It was always way more about the sex and escape. But with the guy I met on IllicitEncounters.com, we're actually really well suited and obviously where we'd talk about things and the struggles I've been going through he wanted to help me.
"I tried to tell him no at first but he kept offering and I'm not exactly in a position to turn it down right now. So he started paying me £600 a month from March I think. And it's just carried on.
"The money's meant I've not had to scrimp and save on the food shop, I can buy a Lurpack butter if I want to. And I've bought myself new clothes, had my eyelashes and nails done and a couple of new bits for the house.
"I even had the heating on in March. I haven't been stupid with it but it's just taken such a pressure off. The government's £301 payment is actually laughable that they think that's going to help anyone get by."
But now Jennie fears her affair could be about to be exposed and ruin her marriage.
Most read in Fabulous
Eamonn Holmes rips into This Morning's Phillip Schofield and Holly Willoughby
Tense Phil heads to This Morning after taking legal action over Holly fallout
Phil takes legal action over Holly rift ahead of pair's return to This Morning
Our town is overrun by hallucinating monkey dust addicts who strip & attack us
She adds: "As I said, I've tried to not be stupid with it but there have been a couple of times I've come home with stuff from the food shop especially and he's been like WHY are you buying that?
"It's so stupid, but I literally bought some Heinz beans instead of the own brand ones and he was like WTF? So I had to make up some story about them being on offer.
"Imagine being caught out by some sodding baked beans. Biscuits and cakes and stuff like that as well we'd never usually be able to afford so he questions it when they're in the drawer.
"Funnily enough he notices the food way more than anything I'm wearing or what I look like so he hasn't even commented on new clothes or whatever. But I am getting worried it's all going to come out. He only needs to take a look in my bank account and he'd be like what is going on here?
"If he ever found out it would literally all be over and I don't want to lose him
"This affair is actually helping to sort us out and taking the pressure off. Why does he need to know where it's coming from?"
Source: Read Full Article