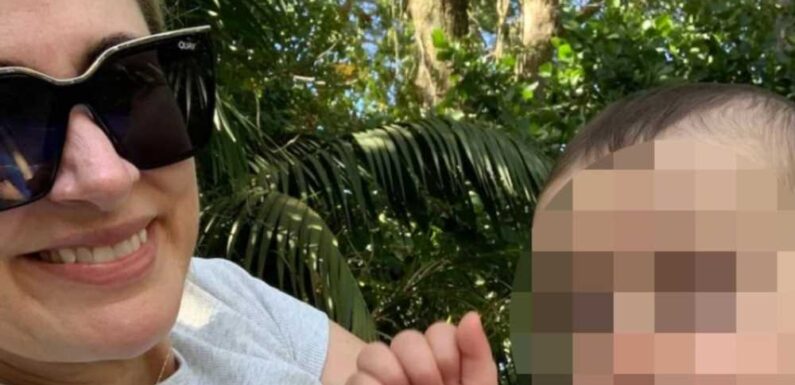 A MUM who started a genius side hustle during maternity leave has told how it has now blossomed into a successful six-figure business.
Lou Rice has taken the baby market by storm with her savvy solution to a problem that most parents can relate to – having their hands full.
She had her eureka moment while learning to adjust to life with her three-month-old son, Archie, who she shares with her partner Ben.
The mum, from Syndey, Australia, explained a breastfeeding blunder in the early hours inspired her to come up with a solution.
She explained as a keen reader, she often passed the time nursing her son in the night by flicking through books on her Kindle.
But Lou's feeding and reading routine in a "sleep-deprived state" backfired when she accidentally dropped the device on little Archie.
READ MORE ON SIDE HUSTLES
I turned teenage side hustle into £500k-a-year-business – here's how
I make £1.6k a DAY with side hustle travelling world in private jets for FREE
"Luckily, he was all fine, but it did give me a little scare," she told Kidspot.
The mishap left the mum, 42, desperate to find a safer way to continue using her Kindle while breastfeeding her newborn.
Instead of browsing the web for a product, Ben headed into the garage and created a simple device to solve the problem.
"He made a silicone strap that was stapled together which I could slip on the Kindle and just slide my hand in and have it secure," Lou said.
Most read in Fabulous
William & Kate hooked on padel tennis & play competitive matches with pals
Mum raves about a £16 nightie that you can easily style as a dress too
I tried M&S & H&M's almost identical trousers & there was a clear winner
People are just discovering what the extra section in shopping trolleys is for
"It was great. It did the trick. It was amazing when I was breastfeeding while lying down, too."
Word soon began to spread among other parents who were eager to get their hands on one – prompting the couple to consider the potential of their invention as a side hustle.
Ben then mocked up a prototype, while Lou used every free moment of her maternity leave to get their business off the ground.
After five months of gruelling work and over £5,000 later, the Strapsicle was born in June last year.
The simple silicone strap that "moulds to your hand" comes in three different sizes for Kindle and Kobo users and retails at just £12.
Lou explained they initially sold their product solely on their website, selling around five Strapsicle's a day and raking in £1,600 a month.
"Right after the launch, we actually gave them away for free with just payments for postage," the mum said.
Her focus then fell on setting up an Amazon store in the hopes of boosting her sales and taking the Strapsicle to the global market.
And she was right on the money – as nearly £10,00 worth of products were sold in the first month after the launch.
The Strapsicle's popularity has since continued to boom, seeing the couple earn up to £20,000 each month.
Lou now dedicates every spare second to the business when she's not running around after her son Archie, who is due to turn 2.
The mum also holds down her job as an advertising project manager three days a week, while Ben still works full time as a creative director.
Yet the family are now rolling in it thanks to their secondary income source, which raked in nearly £93,000 in just one year.
Lou gushed: "To say to Ben that we were a six-figure business, we were astounded.
"It's done so much to accelerate my mindset in the business.
"I love it so much that it doesn't feel like work. And I know the more I work on it, the more it will grow."
The pair intend to bring out a host of other Strapsicle products for a range of devices, saying the "sky's the limit" for them.

Source: Read Full Article