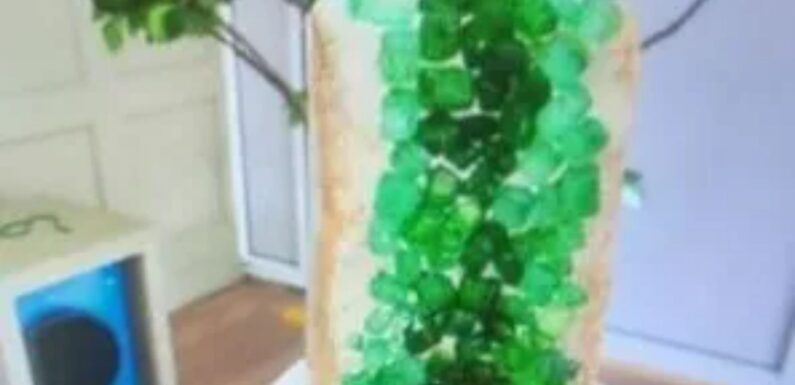 A BRIDE was left horrified after the crystal wedding cake she had ordered looked extremely different upon arrival.
The 'cake-fished' woman shared photos of what she had asked the baker for, and left people "gasping" after they saw the "shambolic" cake that arrived.
Instead of a luxury-looking, crystal-themed cake, she was given a lopsided "monstrosity" that looked like it had fingerprints all over it.
TikTok user @maymanick said: "The cake was cracked, the fondant was sweaty, there were fingerprints all over it and the design was a far cry from what we had ordered."
And worse still, she revealed she'd forked out £500 for the disaster cake.
The bride said she had sent a clear instructions of what she wanted and the baker has since refused a refund and blamed the finished look on the weather.
More on weddings
FAUX PAS
I'm wearing white to my cousin's wedding – my dress is the exception to the rule
'CLASS'
Bride shares funny 'after' wedding selfie & people are loving her for being so real
She added that she'd hired the baker after seeing the incredible cakes on her Instagram.
In a video, the bride explained: "We gave her an incredible clear brief for our Geode cake and she seemed enthusiastic about creating our cake.
"She made it sound like a piece of cake (pun intended) and left no room for doubt in our minds, despite the fact it may have been beyond her skillset.
"She went into detail about how she would make it, what crushed crystals she would use, and so on.
Most read in Fabulous
FAN FURY
Paris Fury gets mum-shamed for Venezuela's lavish 14th birthday celebrations
SUITS HER?
Suits star posts unseen set pics of Meghan sparking rumours of her acting return
MYSTIC MEG
Luck is building for any venture linking fashion and sport
SHOE KNEW?
I tried the scary ballet pump trend – it was an epic fail, I feel so embarrassed
"We had every reason to believe that what we saw on her online social media portfolio would be what we'd receive.
"It was not!"
The bride then shared the "disaster" that was delivered to her wedding venue.
She wrote: "Our wedding coordinator had to pull us aside to say 'the cake is here, but I think you should see it before you decide what to do with it.'
"That was the first alarm bell ringing loud and clear.
"The cake was hastily removed from sight, hardly anyone touched it, and the taste matched its appearance, awful."
The woman said she'd been looking forward to cutting the cake in front of all her guests and the "special moment" was taken away from her.
She continued: "Her excuse? She blamed the humidity at the venue for the condition of this monstrosity that she had the audacity to put in a car and set up.
"It's a joke, if she was so concerned about the heat, why didn't she notify us or ask for assistance when setting up?
"The heat was clearly not the reason for the catastrophe we received."
The bride said the baker had eventually agreed to refund them 50 per cent but has gone silent on them and hasn't paid up.
Her video has racked up over 10,000 likes, and people were shocked.
READ MORE SUN STORIES
TO THE MAX
Pepsi brings out new 'best ever' flavour – but not everyone agrees
BACK TO BASICS
Will Best reveals HUGE change to new Big Brother as iconic feature scrapped
One said: "The way I gasped, laughed and got angry in the span of 5 seconds! I'd demand a FULL refund for that omg! I'm so sorry you had to deal with it."
Another added: "I wasn't ready for that picture. Nothing could have prepared me for how bad."

Source: Read Full Article