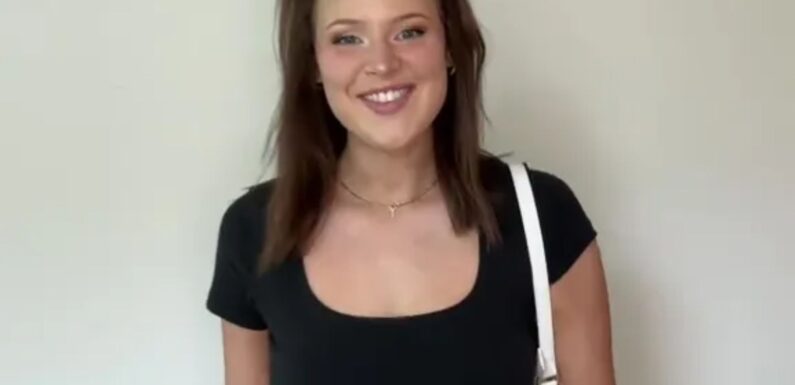 A MUM has hit back at trolls who say she needs to put her 'mum bod' away.
Laurah Fritz showed herself glammed up wearing a tight black top and mom-style shorts.
In the clip the mum posted to social media, she first wore her pyjamas and penned: "Me 99% of the time vs. the 1 night out."
But she then transitioned into a cute outfit with denim jean shorts, a white bag, and her hair in half up, half down style.
The mum's clip went viral online and while most people were supportive a few cruel trolls were lurking in the comments.
One wrote: "Not the mom jeans on a mom bod. Leave it to the teens."
READ MORE FABULOUS STORIES
I have tiny book – trolls say I don't need a bra but that's just not true
I'm a plus size trolls think I should dress head-to-toe in black… no thanks
But Laurah, from the US, wasn't going to let a troll dictate what she wore.
Responding to the comment in a separate video she read the comment out loud.
"No," she replied with a thumbs up.
"I'm judging you," she captioned the clip.
Most read in Fabulous
Jupiter's golden touch helps you keep a money deal moving forward
I'm a 56 year old nan and love wearing tight leather mini skirts and heels
Pregnant Paris Fury and daughter Venezuela, 13, look glam at family wedding
Inside life of most down-to-earth royal…second-hand car to refusing title
Despite the mean comment, many people took to the comments to praise the mum for her cute outfit and confidence.
The videos posted to her account @laurahfritz went viral with over 500k views and over 50k likes.
One person wrote: "I'm so confused cause you looked SO GOOD."
Another commented: "You're literally so beautiful!!!! Cute outfit too my girl."
"They're called mom jeans idk what they expect lol. They look good on you," penned a third.
Meanwhile a fourth said: "Guess they didn't get the memo that all body types are beautiful. That aside, you look gorgeous!"
"You look great! Wear whatever you want," claimed a fifth.
Someone else added: "People are so wild for no reason those jeans are so CUTE."
Fabulous will pay for your exclusive stories. Just email: fab[email protected] and pop EXCLUSIVE in the subject line.

Source: Read Full Article