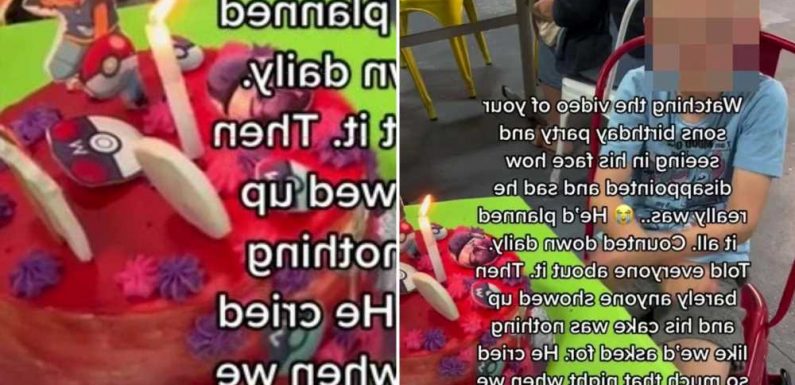 A MUM has left people in tears after sharing a video of her disappointed son at his birthday party.
Sarah took to TikTok to reveal her boy Morrison had been "so excited" about his big bash, and had planned it all himself.
But when the big day came, almost no-one attended the party – and his cake wasn't what he wanted either.
"Watching the video of your son's birthday party and seeing in his face how disappointed and sad he really was," she wrote over a clip of her son sitting in front of his cake.
"He'd planned it all. Counted down daily. Told everyone about it.
"Then barely anyone showed up and his cake was nothing like we'd asked for.
Read more Parenting stories
Mum does a huge sweep of the sales at Primark & shows haul of 50p kid's clothes
Mum admits she's been shamed by another parent for her son's lunchbox
"He cried so much that night when we got home."
"All he wanted was his mewtwo cake," Sarah captioned her video, referring to the Pokemon character.
While she didn't show the cake in detail, it was clear that it was basically a red cake with some Pokemon characters added onto it.
People were quick to comment on the video, with most of them insisting they would have attended had they been among those invited.
Most read in Fabulous
Can you guess how old we are just by looking at our legs?
I've been a hairdresser for 17 years – the trendy shampoos I absolutely hate
I'm an arcade pro & there's a trick to always winning on the grabbing machines
I decided to try for another baby after having triplets & got a big shock
"Did anyone else grow up in the early 90s, and EVERYONE attended EVERYONES birthdays?!" one wrote.
"They were so fun and such a wonderful memory. I can't take seeing these babies sad bc no one showed up.
"Who are their parents?! I always go because several times we've been the ONLY ones who came."
"This makes me so sad," another commented.
"My daughter will always go to a party if invited and she will invite those that people may not regardless of demographics."
"Honestly this breaks my heart!" a third admitted.
"We need to do better. I know we have busy lives but as parents we to need to get our kids to these events!"
As another mum wrote: "This is why I don't do birthday parties anymore for my kids.
"I couldn't take it anymore."
Source: Read Full Article