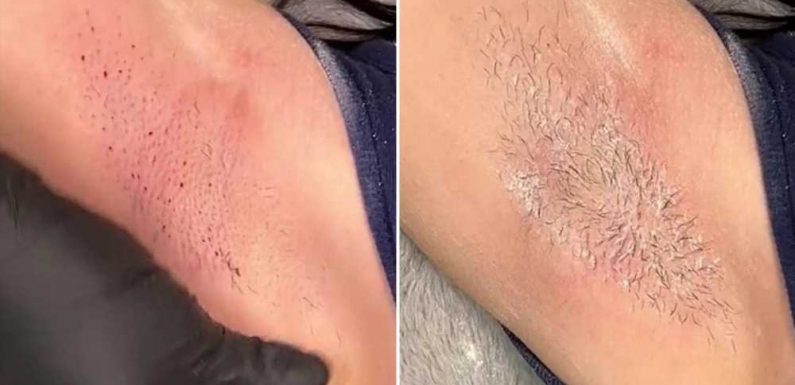 A WAXER has revealed why it's actually a good thing when you have a little bit of bleeding during a treatment.
Renee is a 25-year-old aesthetician from Florida, and frequently shares videos of her customers on her TikTok page.
In a recent clip, she showed a woman having an armpit wax, with people quick to point out the bleeding.
"THE BLOOD!!!" one person commented.
And Renee responded in another video, as she shared someone else's armpit wax to explain.
"So it's actually good when there's a little bit of blood – it means that you are removing the hair from the full on root," she said.  
Read more Waxing stories
Waxer reveals the bikini wax technique she'll never do for clients
Mum says she gets her nine-year-old daughter's eyebrows waxed & hair bleached
"This underarm was so annoying, I actually do not like this wax at all – watch me pull this, I get so upset.
"And this happens to the best of us, even though I've been waxing for seven years."
The wax wasn't pulling all the way off, with Renee admitting she "got so upset".
"You can see she has a little bit of pinpoint bleeding as well and that's not a bad thing," she concluded.
Most read in Fabulous
Mum slammed for the meal she's made for her kids – people call it 'traumatising'
I don't use loo roll, we have Family Cloth instead – we make it from old PJs
I had a 'terrible sleeper' toddler until I discovered a 14p trick
My 11-year-old daughter rakes in £110K per month but is about to retire
"It means you're removing it fully and clean from the root."
Renee added that her customer in the first video hadn't had an underarm wax in five years, which increased the likelihood of her bleeding as well.
"I'd almost rather it bleed..kinda satisfying knowing the hair was removed by the root," one person commented on the video.
"I love seeing pinpoint bleeding lol, makes me think its getting destroyyyeeddd," another added.
"Pinpoint bleeding is totally normal!" a third wrote.
Others insisted the procedure looked too painful, and said they'd be sticking to shaving rather than waxing.
Source: Read Full Article