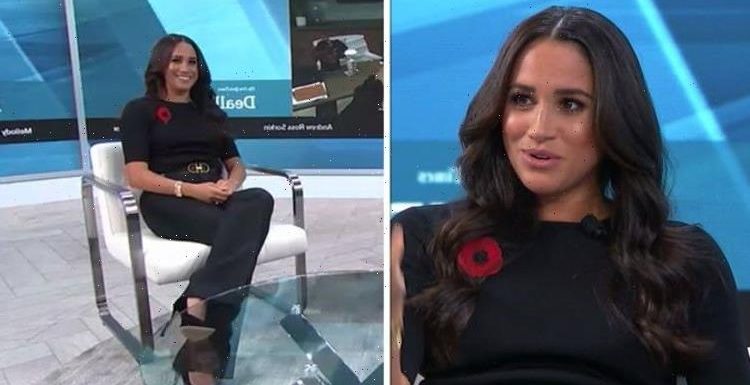 We use your sign-up to provide content in ways you've consented to and to improve our understanding of you. This may include adverts from us and 3rd parties based on our understanding. You can unsubscribe at any time. More info
The Duchess of Sussex spoke at The New York Times' Dealbook Online summit with Mellody Hobson, Co-C.E.O. and President of Ariel Investments. For the occasion, Meghan opted for an all-black look.
Meghan Markle joined the panel to discuss how can women reach economic and professional parity.
For the occasion, the Duchess went for a very elegant look.
She wore a short sleeve black top which she combined with black trousers.
Meghan finished the look with a pair of black stilettos.
The Duchess was also seen wearing the Remembrance Day red poppy.
Meghan accessorised the look with a gold and diamond belt and multiple gold bracelets.
She kept her wavy locks loose around her shoulders.
The Duke of Sussex is also expected to take part in another discussion panel called "The Internet Lie Machine".
Many fans took to social media to comment on Meghan's fashion choice.
"She is elegance personified," said Instagram user Faby Chelsy.
"Meghan looks fabulous," commented Jen Burkart.
Instagram user Lindsay White said: "Gorgeous. She's glowing!"
Source: Read Full Article