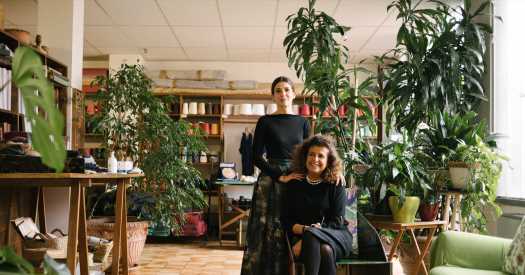 For Italy's elaborate network of fashion artisans — the hands behind the embroideries, intricate knits, silk flowers and other fine work — the past year has been one of constant improvisation and recalibration for an uncertain future.
"We're really nervous because we don't know how to move anymore," said Camilla Calderoli, who designs and makes fine knitwear by hand at Bice & Berta, a specialty atelier founded 29 years ago by her mother, Marina Rizzini, in the northern Italian city of Bergamo. "We are now four people doing the job of 10, and we don't count the hours."
Nearly a year ago, as the first coronavirus lockdown started to ease, artisans in shops like Ms. Calderoli's came back to work, but client orders were down as much as 80 percent.
For Bice & Berta, a surprise boost came around Christmas, as loyal customers returned for new versions of favorite pieces. Still, the company has been struggling. "We put everything we know, everything we love into making beautiful things, but fashion is so fast and we will never be," Ms. Calderoli said. "It takes a lot of time to teach how to do what we do. I grew up in this tiny, lovely world, so I'm like a grandma in the body of a 30-year-old."
Now as Italy, like much of the rest of Europe, grapples with its third wave of infections, a return to lockdowns and chaotic vaccine rollouts, some small, family-run suppliers to the country's 165 billion euro ($197 billion) fashion industry are finally seeing a glimmer of hope.
Almost a year ago the government had pledged €740 billion in loans, grants or payroll support. But many small-business owners found themselves without relief as the fashion industry contracted by 27 percent, according to Carlo Capasa, president of the Camera Nazionale della Moda Italiana, which organizes Milan Fashion Week.
Then on March 19, 2021, Prime Minister Mario Draghi announced about €32 billion in relief and tax credits. Italian news reports said payouts were to begin as early as April 10, and about one-third of the total was earmarked for companies that generate less than €10 million in total annual sales and whose 2020 revenues were 30 percent less than 2019 totals.
That certainly covers many handcraft companies like Bice & Berta.
"It's a pivotal plan," said Alberto Cavalli, executive director of the Michelangelo Foundation, a nonprofit organization that champions master craftsmanship. "It's not just about being able to breathe for the next six months; we are building opportunities to start again in a proper way. Acknowledging the importance of artisanal excellence identifies an element of relaunch for Italy."
"Help Them Stay Alive"
"This whole year," Mr. Capasa said, "has been based on 'wait and see.'"
"'Resilient' is probably the most used and abused word in Italy, because when anything happens, we say we are resilient. That means we don't plan anything; we just decide what we should do in the moment," he said. "But this terrible story can be an opportunity. If we work better and focus on education, digital, sustainability and quality, we have a chance to bring back what fast fashion killed."
Given the unlikelihood of getting back to relative normality by June, the traditional month for the Florentine trade fair Pitti Uomo and Milan men's fashion week, those events will likely remain a hybrid of digital and physical events, Mr. Capasa said. September should be a little bit closer to "a real fashion week," he added.
In the meantime, he said, "in 2021, we have to save companies and help them stay alive." To that end, his organization is lobbying the government for an additional €3 billion over the next two years for the industry's master artisans.
Major brands like Prada and Gucci also have been active. "We managed to redistribute work in a balanced way, to allow our partner network to remain operational," Patrizio Bertelli, chief executive of Prada, wrote in an email. "This allows us to count on them and be ready when the recovery will require us to react to market demands quickly."
He also said Prada had been investing in Tomaificio Linea di Foiano, a woman-led shoe and leather working specialist in Tuscany, and last year it absorbed a troubled leather goods manufacturer near Florence, saving 80 jobs and creating 30 more.
Gucci, which is owned by the French luxury group Kering, partnered with the Intesa Sanpaolo banking group in May to renew the Sviluppo Filiere program, an initiative that allows small and medium-size local suppliers rapid access to loans. A company spokesman said that by December, more than 36 percent of the brand's Italian suppliers had benefited from the program, with loans reaching a total of €202 million.
"I Am Alone Now"
But resilience can go only so far. Until help arrives (and vaccines), some ateliers are barely getting by.
"Business is very slow, less than half of what we used to do before," said Raffaella Grasso, who runs the hand-embroidery atelier Pino Grasso Ricami in Milan. "Every day, I am trying to find a new solution for a new problem, and not only for my job," she added. "It's a little difficult to understand how we will proceed. The only bad thing is that I am alone now."
After Ms. Grasso's father, Pino Grasso, who founded the business, died last June at the age of 89, the atelier worked through July and August to complete the orders they had and because "nobody wanted to stop," she said. "He was the heart and soul of everything here."
While clients including Giorgio Armani, Dolce & Gabbana, and Bottega Veneta have commissioned new embroideries, her staff is working reduced hours, with perhaps 15 out of its 20 employees in the atelier on any given day.
"New things are coming and old things are letting us wait too much, so we are waiting to see how our future will be in the next month," Ms. Grasso said. "I am trying to be positive." Some clients have requested new samples for dresses to be worn by celebrities, she said, but wedding gown commissions, a big part of her business, are still not appearing.
The government aid that the company received so far has fallen short, she said. "Hand embroiderers are a very small reality, but to the government we are together with machine embroiderers," Ms. Grasso said. "We are a handcraft company, not an industry. It's not real, what they see about us."
"It's Complicated"
Other companies, like the shoe manufacturer AGL in the central Marche region, acted on their own. Now in its third generation, the company is run by three sisters, Sara, Vera and Mari Giusti, who oversee a work force of 110 employees, 65 percent of whom are women.
"Our community is really close; we consider our team like family, so we improvised our own kind of extra insurance for our workers, so if they got sick, they could stay at home as long as necessary and benefit from health insurance," Sara Giusti said. "It's complicated. You can't really rely on handouts from the government, and since you can't fight what's going on, sometimes you have to make up your own rules and measures."
As China began to reopen last fall, AGL was able to open in its first shop-in-shop, in the SKP shopping complex in Beijing. It also finished renovating a larger showroom on the Via della Spiga in Milan, secured certification of its environmental impact management and moved its e-commerce activities in house,the sisters said. While business was down 28 percent in comparison with its 2019 returns, its online sales have been growing and the sisters say they remain optimistic.
"In the moment it's still tough, but for the past three weeks, we've been feeling a more upbeat mood coming from the U.S., and we all know that the U.S. is the motor of the world," Vera Giusti said. "That's what really gives us hope right now."
Claudia D'Arpizio, a partner based in the Milan office of the management consultants Bain & Company, said she was expecting a wave of consolidation.
"There was already an ongoing process, with suppliers seeking help from private investors to develop systems and sustainability in order to better serve the fashion and luxury industries," she said. "In particular, we're seeing a younger generation taking the helm of these small laboratories, and they are both ambitious and willing to have a more managerial approach."
Lorenzo Bonotto, who with his brother, Giovanni, is the fourth generation to manage the fabric business that bears the family name, said they had learned valuable lessons from doing more with less in 2020.
During what he called "sleep mode," and with just half of the usual €3 million budget, its research and development team developed a line of biodegradable fabrics and chemical-free "bio-colors," as well as new ways of showing products online, he said. In the last two months of the year, the company's balance sheet edged out of the red.
"We don't have a magic recipe, but by cutting costs and using our creativity, we invented solutions and created new things from nothing," Mr. Bonotto said. "We're trying to come out of this situation like in the Renaissance."
"New Hours Every Day"
Carla Sozzani, the founder of 10 Corso Como, said the only part of the concept store that had been open consistently since last May was the bookshop; when the restaurant opened, it was only for two or three weeks at a time.
"We were making new signs with new hours every day," she recalled. "Sometimes two people a day would buy a postcard. Or young people would come to browse, which is nice. I hope it will change before summer, but all my hopes for Milan are in September."
In the meantime, Ms. Sozzani last fall signed a joint venture with Tiziana Fausti, a luxury multibrand retailer, to expand the 30-year-old concept store in the global market. (The store has an outpost in Seoul, but closed its locations in New York in 2020 and in Shanghai in 2019.)
The move puts Ms. Fausti in charge of the Milan flagship and digital expansion, leaving Ms. Sozzani freer to promote craftsmanship to a new generation — for example, by creating opportunities for fashion students to get hands-on experience with artisans.
She also is working with her life partner, the artist Kris Ruhs, on a project called "A for A" (which they say stands for Art for Artisans or Artisans for Art — or both). It is meant to allow young artists, ceramists or jewelers to show their work in Mr. Ruh's studio in Milan, and her goal is to be ready for the Salone di Mobile, the city's furniture fair, and the crowds that it traditionally has attracted to the city in September.
That project goes hand in hand with hope for the future and for championing the quality of goods over their quantity, Ms. Sozzani said.
"I'm optimistic by nature, because what's the alternative? It's a waste of time. Creativity is the only way. That's the real future. It's a treasure."
Source: Read Full Article