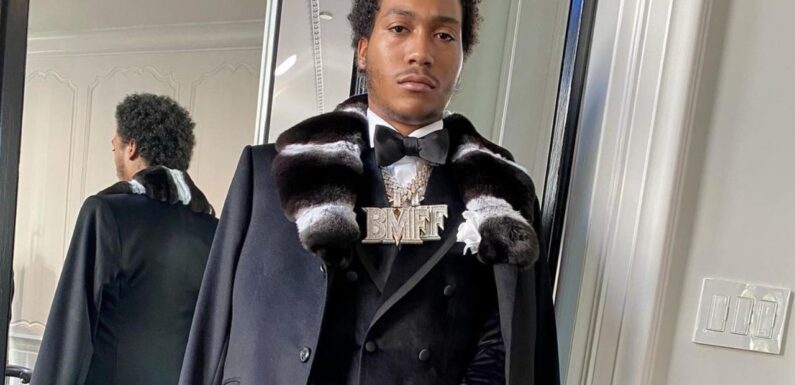 The 'BMF' actor and rapper, whose real name is Demetrius Flenory Jr., steals people's attention after he appeared to have forgotten his line in the newly-released music video.
AceShowbiz –Lil Meech has become the butt of Internet joke over his appearance in the music video for Rylo Rodriguez's song, "Equal Dirt". The "BMF" star was clowned due to his "weak a** acting."
In the clip, the 23-year-old can be seen having an argument with his on-screen lover. The intense conversation occurs as the actor takes an issue with an item that seemingly doesn't belong to him.
Meech, whose real name is Demetrius Flenory Jr., speculates that his partner has been cheating on him. So, he confronts the woman and asks, "Who is this for??"
Many have since poked fun at Meech. One person in particular wrote on Twitter, "Meech talking about 'who is this for ??' " adding a series of crying laughing emojis. Another commented, "He said one thing he gon do is know his line!"
A third quipped, " 'Who is this for?' ….. CUT!" Someone else, meanwhile, sent out a short video of a man expressing his frustration. Alongside the clip, the individual wrote, "Me as the video director yelling cut for the umpteenth time after that weak a** acting."
Meech previously starred in a music video for his girlfriend Summer Walker's song, "Pull Up". Dropped on May 19, the visuals begins with Summer catering to her partner played by Truitt. After she gives him a plate and helps him wind down for the evening, she sneaks out and enters a car parked outside of their place.
It turns out Lil Meech is waiting for Summer. After sitting on his lap, the songstress serenades him with a song about their affair. "Pull up, pull up on me, and let the seat back, ow/ Put your doobie out, let the window down, let 'em hear us, oh, oh, I ain't got no shame with you, oh, oh (Oh)," she sings. "I ain't got no shame with you, oh, oh (Oh), ain't tryna play no games with you/ You just fillin' my spirit, you got me so in it, I'm gone (Ooh, ooh, ooh), overflowin', my water keeps runnin', baby/ Tellin' me to surrender my body, my mental, it's too much."
You can share this post!