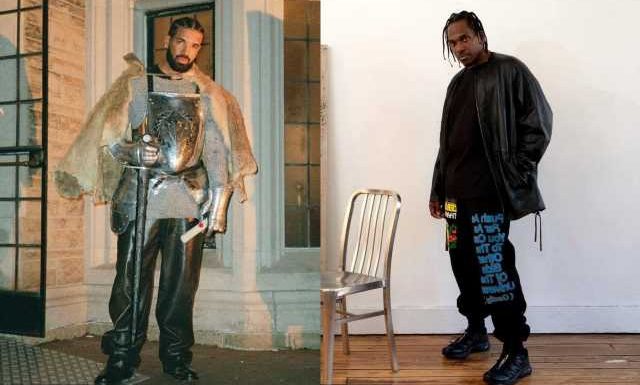 During his appearance on Drink Champs, the 44-year-old Bronx rapper also explains why he and has yet tot officially squash his beef with the 'Hotline Bling' hitmaker.
AceShowbiz –Pusha T declared he won't be performing in Canada anytime soon. On the reason why, the "Mercy" rapper divulged that he's been banned from his nemesis Drake's home country in the wake of a 2018 onstage brawl amid their feud.
The 44-year-old made the revealtion while making an appearance on "Drink Champs" podcast. "I'm banned from Canada," he claimed, to which co-host N.O.R.E. a.k.a. Noreaga suggested that he "went too far" on his diss record.
Defending himself, Pusha stressed, "I don't care. There is no too far! I don't play like that, that's why you don't play with me… Leave me alone!" He further argued, "Leave me be! Because there is no too far."
Prior to that, Pusha made it clear that he doesnt' want to collab with Drake and that he is "cool without it." He also assured viewers that he's "at peace. … I want nothing."
Pusha went on to note why he and Drake haven't officially squashed their beef. "I won't speak on have happened since. … For me, it ain't even about, you know. If it was just a rap thing and what is what it was, y'know, that was cool," he shared.
The pair began feuding after the "Diet Coke" spitter released a song titled "The Story of Adidon" in which he alleged that Drake was hiding a son. In May 2018, Pusha claimed that he got the information from Kanye West.
However, when sitting down with Complex's Speedy Norman in February, Pusha claimed he has left their beef in the past. "I've already looked past that," he pointed out. "I looked past that. I don't look towards that anymore."
"Bygones are bygones, as far as I see," the Bronx native went on elaborating. He then praised his pal Kany for ending his own feud with Drake, saying, "I think it's really good that they did squash it. That works really good for them."
Source: Read Full Article