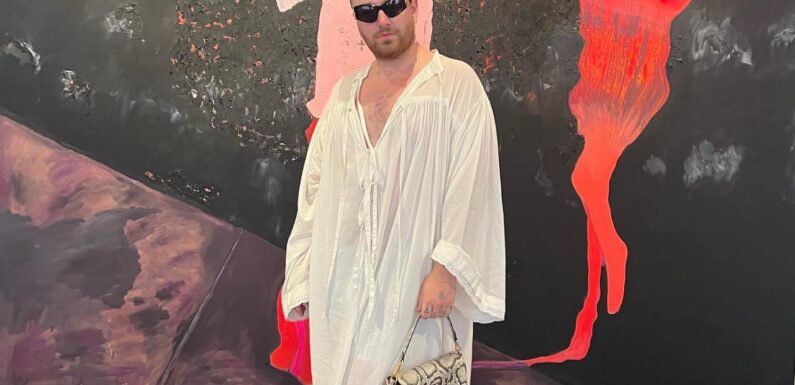 The I'm Not Here to Make Friends' singer trends on Twitter after trolls claim that they are the performer doing a painful stage dive in a clip that makes rounds on the Internet.
AceShowbiz –Sam Smith found themself trending on Twitter for not a good reason. The "Holy" hitmaker became the talk of the town after they were mistaken to be the performer doing a shocking stage dive in a viral clip.
The footage featured someone wearing a Ninja Turtle costume who threw himself into a crowd. However, none of the audience members caught him as he quickly dropped to the ground in a painful-looking incident.
People on the Internet began to assume that the performer was Sam with trolls spreading the misinformation while also body-shaming both Sam and the actual person in the video. "Sorry i need to keep using this sam smith guy jumping or like idek crowd stage diving thing," one person tweeted. One other wrote, "this is absolutely done me Sam Smith stage dive."
However, fans were quick to clarify that the "I'm Not Here to Make Friends" singer wasn't the one stage diving at the concert. Attaching a video from a different angle, "Despite various ACCOUNTS spreading false information. Sam Smith DID not stage dive at any Concert." It was also revealed that the random man jumped into a Vanilla Ice crowd in Oregon over the weekend.
"The obsession right wingers have with Sam Smith has combined with their affinity for fake news & false information," another Twitter user fumed. "This is so CLEARLY not Sam, they have truly never fact checked a day in their life."
One other added, "I love @samsmith. And I dare everyone making fun of Stage-Diving-Not-Sam-Smith-Guy to show us their perfect bodies. Sam's out there having the time of their life. And getting paid and adored for it. Be more jealous."
"U can tell that sam smith is on these ppls mind 24/7 ion even like sam smith as much yet y'all spreading misinformation about them stage diving that's literally another person in a ninja turtle suit next time use ur brain," further slamming the haters," a fan noted.
Despite receiving body-shaming, Sam revealed in an interview that they "have the opposite of body dysmorphia." Speaking to the Sunday Times, they said, "I look fabulous. … I feel liberated, released from pressures I felt when I was young."
The American Music Award winner, who came out as non-binary and uses they/them pronouns, also wrote in an Instagram post, "I've decided to embrace myself for who I am, inside and out." They added, "Feeling super free right now. Be kind."
You can share this post!
Source: Read Full Article