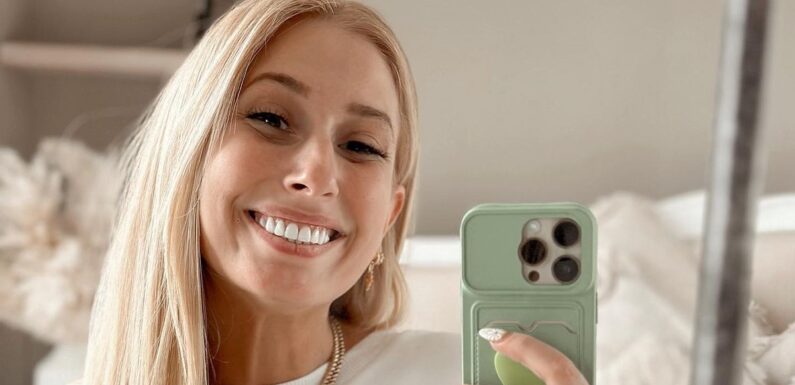 Loose Women star Stacey Solomon shared her excitement with fans after she appeared to have a "play around" with potential tattoo designs.
The 33-year-old took to her Instagram story on Monday evening (April 24) to share that her tattoo artist brother will be designing her first inking.
Sharing a black and white video with her 5.6million followers, Stacey faced away from the camera lens as her brother could be seen preparing her back for the new body art.
READ MORE: Stacey Solomon proudly displays famous curves in black bikini as she wows in beach snaps
Captioning the clip, he wrote: "So my brother is a tattooist and he kept the shop open late tonight so we can have a little stencil session."
She continued: "I can't believe I'm actually doing it. So excited.
"Just a little play around tonight while the kids are in bed then we can go for it when I'm back from Paris."
Stacey's brother could also be seen adding the design to the back of her shoulder.
The former X Factor star previously told fans earlier this month that she was considering a new tattoo and joked that she could be "having a midlife crisis".
While she cradled her youngest child Belle, Stacey said: "So Belle and me were having a quiet Friday laying on the sofa and I think I want a tattoo.
"Am I having a midlife crisis or is it my hormones?
"Is it weird to get a tattoo in your thirties? I think I really want one, I've never had one before," she added.
Although it is unclear what design she did go for in the end from the short video, Stacey previously hinted she was thinking about getting all of her children's names in Hebrew inked on her skin.
The Loose Women panellist shares newborn Belle, one-year-old Rose and three-year-old Rex with her husband Joe Swash.
In addition to this, Stacey is also a proud mum to Zachary, 14, and Leighton, 10, from her previous relationships.
While discussing tattoos with her fans online, Stacey also involved I'm A Celeb star Joe in the conversation.
She said: "Joe's got two tattoos, but he never gets them out. I don't know why."
Joe joked: "Because they're on my penis. They're really small."
Laughing along, Stacey added: "They'd have to be if they were there!"
READ NEXT:
Stacey Solomon admits she's 'world's worst wife' who has 'no sympathy' for hubby Joe
Stacey Solomon fans 'sobbing' as she shares emotional family update with son
Stacey Solomon 'so excited' as she announces family plans to finally leave the UK
Source: Read Full Article