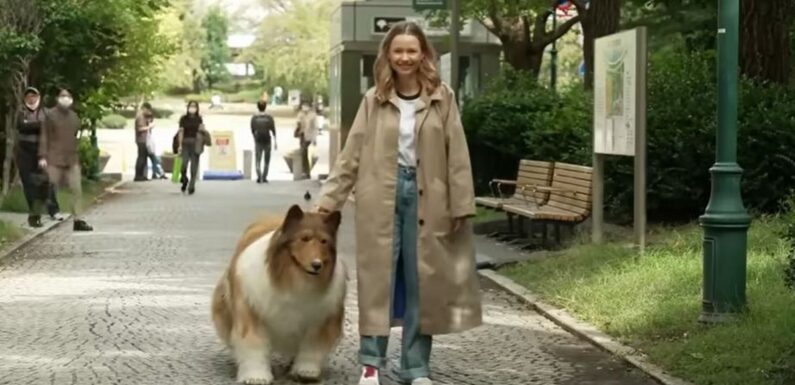 A man who shot to fame after dressing up in a realistic dog costume claims he wants to make his Hollywood debut and become a famous movie star.
The Japanese man, known only by his canine name Toco, spent a whopping $16,000 (£12,779) on a super realistic Collie costume to amuse the public.
Toco rose to global fame after filming himself dressing up and going to a park with his friend and pretending to be a dog. In the video, he claims to be 'fulfilling a dream (he) had since he was a little child."
READ MORE: Lad arrested after he's seen forcing his dog to smoke weed in sick video
Fellow dog walkers would approach him only to find a human dressed as a dog.
However, walks in the park aren't enough for the new dog Toco, who now claims he wants to do more than his viral videos and get a role in a hit Blockbuster.
Speaking to the New York Post, Toco says: "I think it would be great if I were able to use my skills and get the opportunity to appear as a dog in a movie."
Dressing up as a canine seems to be on the rise, with others reaching out to Toco about their shared hobby.
Speaking to the Spanish News Agency, Toco said: "Some tell me they want to do the same thing, which has made me realize that there are other people like me," he told the outlet.
Fate of your XL Bully pet when ban on 'devil' dog breed comes into force
"I think it would be great if something like this [meetups] existed," he told the New York Post. "I would like to meet them."
Toco has hit back on claims that he has a fetish or wants to live like a dog permanently. He says that he only wishes to "transform" for short periods of time for the amusement of others.
There is no news on whether Toco will be featuring in a film, but he is working on growing his social media, with his YouTube channel named 'I Want to be an Animal' reaching over 56,000 subscribers.
Toco aims to find and celebrate with others who enjoy dressing up as canines.
For the latest breaking news and stories from across the globe from the Daily Star, sign up for our newsletter by clicking here .
Source: Read Full Article