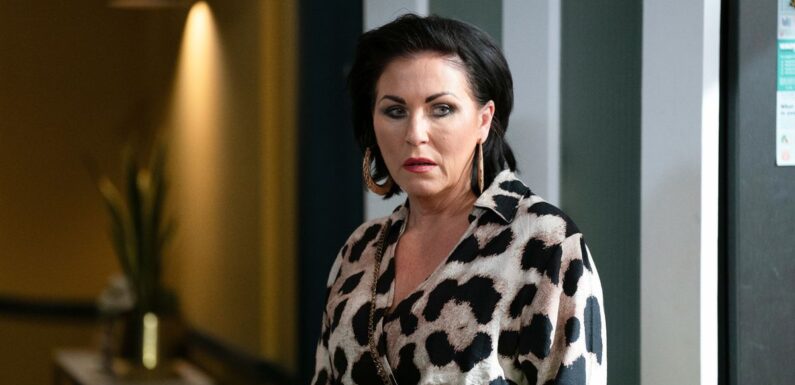 EastEnders icon Kat Slater could be getting her revenge on Phil Mitchell after his shock fling with Emma Harding, says AI.
The two soap alums, played by Jessie Wallace and Steve McFadden, are set to tie the knot.
But in a shocking turn of events this week, after a row with his future wife Kat, Phil made the mistake of sleeping with Emma (Patsy Kensit) at the back office at Peggy's.
READ MORE: EastEnders' Sean Slater return 'exposed' in big twist as he vows to 'protect' Stacey
Although he wanted to shut it down soon after, Emma wasn't having it and went on to blackmail Phil over their saucy fling.
She demanded access to see her granddaughter Lexi Pearce (Isabella Brown) – otherwise she would tell everyone their secret.
And now, it's been reported that if Kat finds out about Phil and Emma's rendezvous, she will not be too happy about it.
So much so, that "furious" Kat's revenge on beau Phil will be "something that he will never forget."
Daily Star has quizzed one of the world's most popular artificially intelligent "creative" tools Bard AI, to see how Kat will react to Phil's affair.
The program said: "Kat is likely to be devastated and furious when she finds out about Phil's affair with Emma. She has been through a lot with Phil over the years, including his gambling addiction and his time in prison. She has always stood by him, but this is a major betrayal."
When asked about Kat's revenge, the system said: "It is certainly possible that Kat will get her revenge on Phil for cheating on her with Emma. She is a strong and independent woman who is not afraid to stand up for herself.
"She has also been through a lot in her life, so she knows how to deal with pain and betrayal."
The AI program went on: "In the past, Kat has shown that she is capable of great anger and violence. She once attacked her ex-husband Alfie with a baseball bat, and she also killed her abusive father.
"So, if she decides to get revenge on Phil, it is likely to be something that he will never forget."
Have you joined Threads? Follow Daily Star to keep up to date on all things showbiz here.
In Thursday's episode (September 14) Phil found himself blackmailed for the second time in a week – this time by Keanu Taylor (Danny Walters).
He currently is fuming over an injunction order from Lisa Fowler (Lucy Benjamin), which banned him from seeing his daughter – Phil's other granddaughter, Peggy.
And after being told by Emma about her romp with Phil, Keanu was quick to assure Phil he would keep his dirty secret – but only if he helped me get access to see Peggy.
For more of the latest showbiz and TV news from the Daily Star, make sure you sign up for one of our newsletters here.
Source: Read Full Article