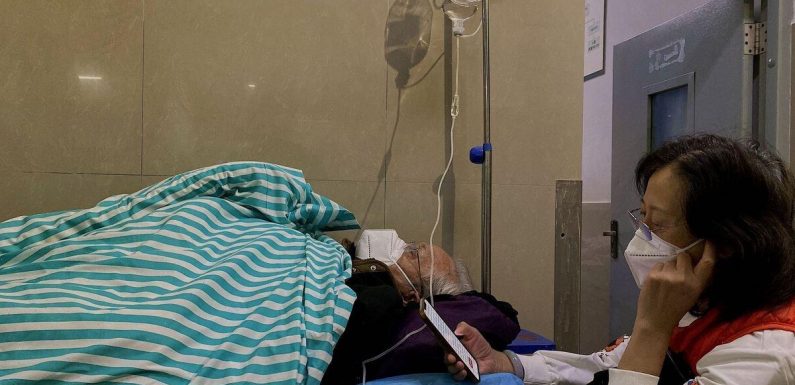 Coronavirus: UK to impose screening on travellers from China
We use your sign-up to provide content in ways you've consented to and to improve our understanding of you. This may include adverts from us and 3rd parties based on our understanding. You can unsubscribe at any time. More info
Covid death numbers in China have fallen by nearly 80 percent since the start of the month, Beijing officials have claimed — suggesting that their surge in cases may be abating. China reported nearly 13,000 deaths from COVID-19 last week, following reports the week before that the nation had seen nearly 60,000 Covid-realted deaths in just over a month. Infections have surged in the People's Republic since China lifted its strict "Zero Covid" policy in the face of growing public backlash on December 7 last year.
Reports from local governments across China appear to suggest the recent wave of infections peaked in late December and early January.
This period saw both hospitals and crematoriums overwhelmed by the surge in cases.
Officials had previously expressed concern that celebrations around the Lunar New Year — or, to be more precise, the travel associated with such — might give the virus the opportunity to spread and bring a fresh wave of infection to China's rural interior.
On January 2, National Health Commission Bureau of Medical Administration Director General Dr Yahui Jiao told state broadcaster China Central Television (CCTV) that such a surge was expected to pose an "enormous challenge".
This year's celebration is the first, following a three-year hiatus, for which Chinese citizens have been permitted to travel from cities to rural areas to visit their relatives.
As of Tuesday this week, according to CCTV, a whopping 664 million trips had already been taken during the lengthy festive period, which culminates this year on February 5.
While it remains to be seen what impact these movements will have had on case numbers, official figures nevertheless have Covid-related deaths on the decline at present.
As of Monday, China's Center for Disease Control and Prevention announced earlier this week, there were 896 deaths in hospitals attributed to SARS-CoV-2 — a decline of 79 percent from January 4,
Official figures also put the number of severe cases in hospitals at 36,000 this week, which is 72 percent lower than the high of 128,000 cases on January 5.
Last week, Chinese Vice Premier Liu He asserted that China has already returned to "normal" following the recent lifting of Covid restrictions.
The politician made the comments to attendees at the World Economic Forum, which was held in the Swiss Alpine resort town of Davos.
The transition away from the previous, strict zero-Covid stance, he said, "has overall been stable and smooth".
He added: "The time to reach the peak and to return to normal has been relatively fast. In some senses, it has exceeded our expectations. Things have comprehensively returned to normal."
DON'T MISS:
National Grid power outage as hundreds of homes left without supply [REPORT]
Sunak handed masterplan to slash energy bills by 'hundreds of pounds [ANALYSIS]
Rolls-Royce to export British nuclear tech to Czech Republic [INSIGHT]
Mr He added: "Currently, the main difficulty is still the elderly, those with underlying conditions. We are currently striving to tackle this."
Millions of China's senior citizens remain incompletely vaccinated — a fact which has seen President Xi Jinping's government criticised for its failure to adequately promote immunisation campaigns.
During his speech to the World Economic Forum, Mr Liu also took the opportunity to invite China's "international friends" to visit the country.
Beijing dropped its quarantine requirements for overseas arrivals last week.
Mr Liu said: "We very much welcome international friends to come to China. We will provide the best service."
However, he conceded: "Of course, right now, on some issues we need some time to transition, but on the whole, there is already no problem."
Source: Read Full Article