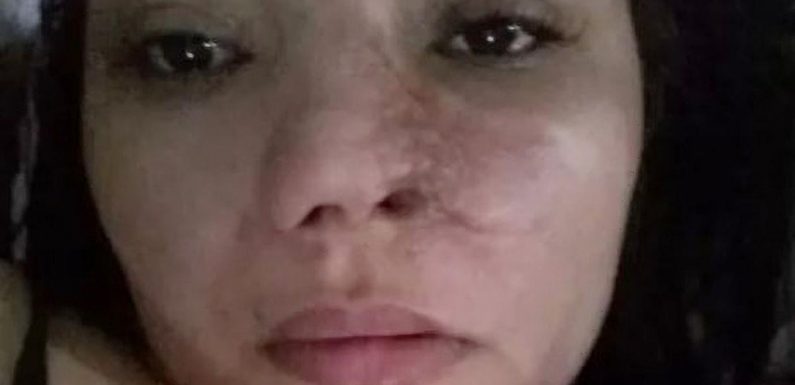 A terrified beautician's nose began to slowly rot off her face after a botched nose operation from a dental surgeon.
Elielma Carvalho Braga, 37, started suffering from necrosis – the irreversible death of body tissue – after an operation to have her nose size reduced.
Now, dentist Igor Leonardo Soares Nascimento has been formally charged with causing GBH and performing an illegal operation.
READ MORE: Female teacher 'raped 16-year-old student in exchange for giving him good grades'
Elielma turned to the dentist in Aparecida de Goiania, Brazil, in June 2020 to reduce the size of her nostrils after seeing an online ad.
However, soon after the flesh around her nose began to blister and rot, but the doc claimed it came from by existing health issues Elielma had.
Despite undergoing a medical marathon of 13 corrective surgeries, she says she still suffers from the after-effects.
She needs to use dilators in her nostrils to be able to breathe and has been left with a scar that covers much of her face.
She told local media: "I still need to do other surgeries, but I don't know when that will be possible. And it's scary to have to undergo more surgery."
She is currently in the process of suing the dentist for BRL 42,000 (GBP 6,600) compensation for her suffering.
She told local media: "My life has stopped. I only wear a mask because I'm ashamed, people stare.
"If I go out to eat, I eat in the car. I don't take part in anything else."
Under local law, the procedure – called nasal wing reduction – can only be carried out by a qualified doctor.
An August 2020 resolution expressly prohibits dentists from performing nasal wing reductions.
Sheep with one eye and crooked mouth stolen by callous thieves in farm heist
Soares Nascimento said in a statement: "I have been a dental surgeon for 20 years with various specialties within dentistry.
"I have been practising orofacial harmonisation since 2014 and I am one of the pioneers in the state of Goias in this area.
"I have always treated my patients with a lot of love, care, dedication, and have significantly contributed to improving everyone's self-esteem.
"At the time of patient Elielma Carvalho's treatment, the procedure was performed successfully, and she left the clinic very happy with the result achieved.
"The problem was post-operative complications, which, for reasons related to her health, evolved into local necrosis."
To get more stories from Daily Star delivered straight to your inbox sign up to one of our free newsletters here .
READ MORE:
For more of the latest news from the world of the Daily Star, check out our homepage

'Don't let ISIS bride Shamima Begum back into UK,' warns top Brit defence expert

UK Parliament infiltrated by 'Fifth Column' of 'Putin chums', claims defence expert

Full list of Lloyds and Halifax banks closing on UK high streets as 40 face axe

Pet fish 'commits credit card fraud' as owner finds pet ordering Nintendo Switch items
Source: Read Full Article