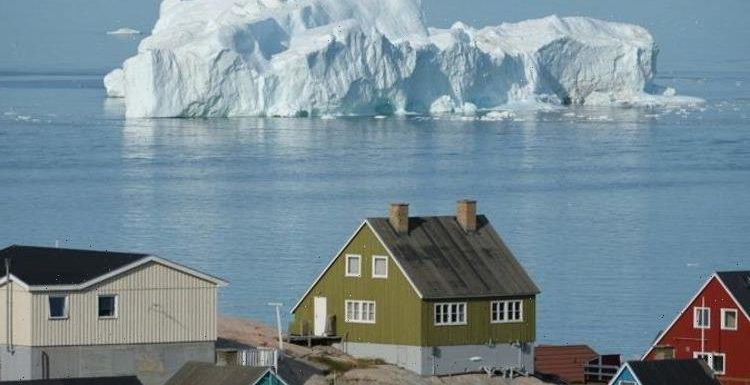 Jeff Bezos 'having a dig' at Richard Branson says expert
We use your sign-up to provide content in ways you've consented to and to improve our understanding of you. This may include adverts from us and 3rd parties based on our understanding. You can unsubscribe at any time. More info
KoBold Metals signed a multi-million dollar deal with London-listed Bluejay Mining, reports on Monday confirmed. The California-based mining firm will pay up to $15million to drill in the Disko-Nuussuaq licence area.
KoBold, who are said to use "data-led exploration techniques" to extract the materials, will also take a 51 percent stake in the licence.
BlueJay shares traded 26 percent higher following the news, Reuters reports.
The area of Disko-Nuussuaq covers almost 3,000 square kilometres of central west Greenland, which is nearly the size of Gloucestershire.
BlueJay CEO Bo Steensgaard said: "This agreement is transformative for BlueJay."
The Dane added: "We are delighted to have a partner at the pinnacle of technical innovation for new exploration methods, backed by some of the most successful investors in the world."
It is said the Disko project could potentially contain copper, cobalt and nickel.
The three metals are needed to create batteries for electric cars.
KoBold's chief executive, Kurt House, explained how the Disko region experienced "the rare convergence of events in Earth's history that could have resulted in forming a world-class battery metal deposit".
KoBold Metals receives investment from billionaires at Breakthrough Energy Ventures.
BlueJay's chairman, Roderick McIllree, hopes drilling will start in Greenland next year.
However, inhabitants of Greenland have recently voiced their opposition to separate drilling in the area.
In their semi-autonomous elections in April, Greenlanders ended more than a decade of Siumut supremacy on the island by backing their left-wing and green opponents, Inuit Ataqatigiit.
Inuit Ataqatigiit's leader Mute Egede has opposed Greenland Minerals' Kvanefjeld site.
DON'T MISS:
Perseid meteors arrive as Earth ploughs through comet's 'dusty tail' [REVEALED]
Warzone update TODAY: New Call of Duty hotfix patch tweaks weapons [GAMING]
Why your TV is saying no signal – Freeview chaos as channels vanish [INSIGHT]
Greenland Minerals is an Australia-based company with Chinese ownership.
Source: Read Full Article