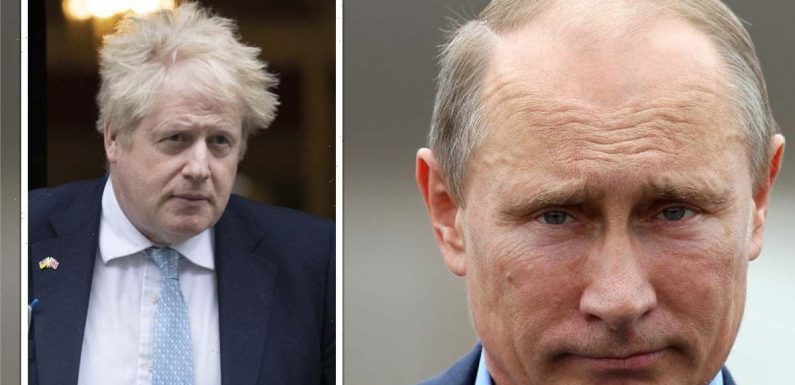 Russians share thoughts on West supplying Ukraine weapons
We use your sign-up to provide content in ways you've consented to and to improve our understanding of you. This may include adverts from us and 3rd parties based on our understanding. You can unsubscribe at any time. More info
Britain has been leading the charge in sending over weapons to Ukraine to help fend off Russia's brutal invasion. Prime Minister Boris Johnson has now announced that he will send a staggering £1.3billion of additional military support to Ukraine, on top of an existing £1.5billion that has been sent so far. Additional equipment in the package will include anti-battery radar systems, plus GPS jamming and night-vision devices.
This adds to an already huge arsenal of thousands of British weapons that have been obliterating Russian troops.
Hamish de Bretton-Gordon, a weapons expert from Cambridge University, told Express.co.uk that Britain's "sophisticated" weapons will Ukraine the edge on the battlefield.
He was particularly impressed by the Royal Navy's Brimstone missiles which can obliterate Russian ships, which Defence Secretary Ben Wallace says the UK is hoping to send.
Mr de Bretton-Gordon told Express.co.uk: "These weapons are highly effective and we have already seen that Russian ships are highly susceptible to missile attack – they do not appear to have the defensive aid suits which we would expect on Royal Navy ships.
"These are missiles which fly at high speed with a sophisticated high explosive tip which are targeted areas of vulnerability like the ship's magazine where weapons are stored."
This comes as the latest intelligence from the Ministry of Defence estimates there are 20 Russian navy vessels in the Black Sea, including submarines.
Russia's navy has reportedly faced "embarrassing losses" in the form of the landing ship Saratov and the flagship Moskva, but British defence officials have warned they still have the force necessary to strike at the Ukrainian coast.
But Mr de Bretton-Gordon s doubts Russia's Navy will be able to cope with the influx of more powerful British weapons.
He told Express.co.uk: "The Russian Navy are trying to dominate the south and the Black Sea.
"Their next prize is thought to be Odessa, but without Naval superiority, they are unlikely to achieve this.
"I expect the Russians thought they would dominate the battle in the south from the sea as Ukraine did not have many navy assets to attack them.
"But these state-of-the-art maritime missiles are giving the advantage back to the defenders."
Brimstone missiles have previously been used by British forces in Libya and Syria.
DON'T MISS
China's 'mighty dragon' Terrifying weapons that Xi could hand Putin [REVEAL]
Ukraine hails Britain's 'well appreciated' weapon support [INSIGHT]
Warning as suppliers 'invent electricity meter readings' and surge [REPORT]
Originally developed for the Royal Air Force, they usually get blasted from a high-speed jet aircraft.
The weapon is 1.8 metres in length, weighs 50kilograms, and has a diameter of 180millimetres.
Each missile costs around £175,000.
Now, Britain is assessing the different ways it might be able to ship these powerful weapons over.
Mr Wallace told Sky News: "We have said we will source and supply, if we can, anti-ship missiles.
At the end of April, James Heappey, the armed forces minister, said the Brimstone missiles would be sent to Ukraine in the "next few weeks".
Source: Read Full Article