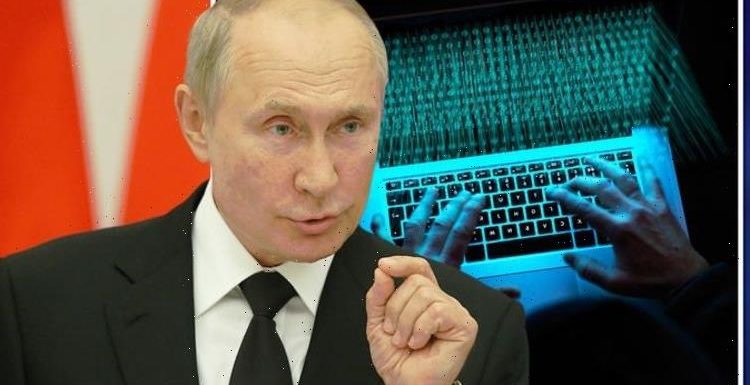 Gavin Williamson: NATO together against Russia cyberattacks
We use your sign-up to provide content in ways you've consented to and to improve our understanding of you. This may include adverts from us and 3rd parties based on our understanding. You can unsubscribe at any time. More info
Cybercriminals with links to Russia have been responsible for some of the biggest attacks on US infrastructure in recent years. In May this year, a number of US agencies, including the Treasure and Commerce Departments, fell prey to hackers likely acting on behalf of a foreign government. According to US officials, hackers broke in and gained access to major networks and internal email systems.
Another attack in May targetted one of the US's biggest pipelines, forcing Colonial Pipeline to shit down 5,500 miles of the key infrastructure.
Just two months later, businesses across America were targetted by a ransomware attack, which according to cybersecurity experts, was carried out by criminals in Russia.
The attack extended beyond the US borders, disrupting services to the Swedish State Railway and one of the country's biggest supermarket chains.
And in December 2020, in what has been described as the biggest cyberattack in history, hackers used the SolarWinds software to target some 18,000 private and public organisations.
Following the attack, Microsoft President Brad Smith said: "From a software engineering perspective, it's probably fair to say that this is the largest and most sophisticated attack the world has ever seen."
Many of the attacks were perpetrated by cybercriminals based in Russia and Eastern Europe, although intelligence officials suspect some degree of involvement from the Russian authorities themselves.
In a Forbes report published last year, cybersecurity expert Jody Westby claimed Russia has been carrying out such attacks against the West for at least 20 years.
She called for an international response to the clear and present danger, which has been a cause of chaos around the world.
In 2011, Ms Westby co-authored a report for the United Nations, which warned cyberattacks can strike anytime and anywhere, and "cause immense damage in the blink of an eye".
Colonial Pipeline: Drivers queue for gas after cyberattack
The expert's calls for action have now been joined by the US-based Gatestone Institute think-thank.
In an article penned last week, contributor Peter Schweizer argued Russia's refusal to sign onto the so-called Budapest Convention is an indicator of the state's ill wishes towards the West.
Although Russia did not sign the convention, it remained among 12 "observer" countries alongside Ireland, Turkey, New Zealand and others.
The Budapest Convention on Cybercrime, which was signed by 66 nations including the US and UK, is the world's first international treaty seeking to address the issue of cybercrime.
Mr Schweizer said: "The internet is not the south coast of the Mediterranean, and today's digital corsairs can essentially operate from anywhere.
"But they are still the responsibility and, in many cases, the paid agents of Russian aggression against the US and other sovereign nations."
"Sanctions and other punitive measures should address Russia's refusal to sign onto the so-called Budapest Convention, a pact that obliges signatories to prevent cyber-crimes that are conducted within their borders.
"European Union nations and the United States are all signatories.
"Russia has resisted doing so, even as cyber-crime traced to the Russian mafia and other 'advanced persistent threat' actors is repeatedly traced to its soil."
In October last year, Foreign Secretary Dominic Raab condemned Russian intelligence services for their involvement in targetted attacks against the 2020 Olympic and Paralympic Games in Tokyo.
According to the Government, Russia's GRU agency was also involved in deploying data-deleting malware against key systems involved in the 2018 Winter Olympics in Pyeongchang, South Korea.
Mr Raab said at the time: "The UK will continue to work with our allies to call out and counter future malicious cyber attacks."
Source: Read Full Article