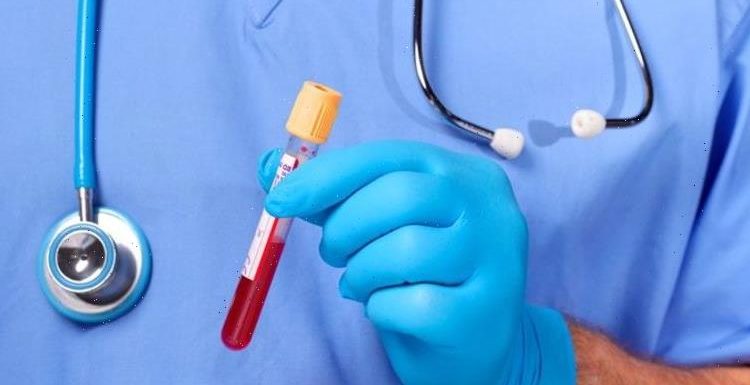 Sarah Harding: Dr Hilary outlines breast cancer symptoms
We use your sign-up to provide content in ways you've consented to and to improve our understanding of you. This may include adverts from us and 3rd parties based on our understanding. You can unsubscribe at any time. More info
The NHS-Galleri launch will see the first people taking part have their blood samples taken at mobile testing clinics in retail parks and other community locations. The Galleri test will check for the earliest signs of cancer in the blood, even before symptoms appear. The NHS-Galleri trial, the first of its kind, aims to recruit 140,000 volunteers in eight areas of England to see how well the test works in the NHS.
The test is a simple blood test that is effective at finding cancers typically hard to identify early on.
This includes cancers of the head and neck, bowel, lung, pancreas, and throat.
The tests will work by finding chemical changes in fragments of genetic code – cell-free DNA (cfDNA) – that leak from tumours into the bloodstream.
The NHS has started sending out letters to tens of thousands of people from different backgrounds and ethnicities aged between 50 and 77 to take part.
Participants, who must not have had a cancer diagnosis in the last three years, will be asked to give a blood sample at a local mobile clinic and will then be invited back after 12 months, and then two years later to give more samples.
The trial is part of the NHS's plan to increase the number of cancers detected early by the end of the Long Term Plan.
The trial is being run by The Cancer Research UK and King's College London Cancer Prevention Trials Unit in partnership with the NHS and healthcare company, GRAIL, which has developed the Galleri test.
The first results are expected to be published by about 2023.
If successful, NHS England plans to extend the rollout to a further one million people in 2024 and 2025.
If cancer is found early – known as stage one or two – people typically have a wider range of available treatments which are usually less aggressive.
When cancer is diagnosed at the earliest stage, a patient typically has between five and 10 times the chance of surviving compared with those found at stage four.
GRAIL Europe's Head of Cancer Intelligence, Sara Hiom, told Express.co.uk: "In terms of the trial, it's unique, it's pretty special.
DON'T MISS
UK satellite firm snubs EU's Galileo with 'strength of performance' [INSIGHT]
Europe on brink of winter gas crisis as prices soar 35% [REPORT]
Tsunami warning as Britain in line of fire from Greenland landslide [REVEAL]
"To our knowledge, there's no other randomized control trial of a multi cancer early detection going on anywhere else in the world, including the US"
"This sends a very important statement about the very unique nature of the NHS.
"We have our highly prized national health system which is a free point of care for all that use it."
According to Cancer Research UK, more than 357,000 people were diagnosed with cancer in the UK between 2015 and 2017 alone.
And more than 166,000 have died in the period between 2016 and 2018.
Cancer Research UK said: "Every two minutes someone in the UK is diagnosed with cancer."
Breast, prostate, lung and bowel cancers are the most common types of cancer diagnosed, accounting for 53 percent of all new cases in the UK in 2017.
Source: Read Full Article