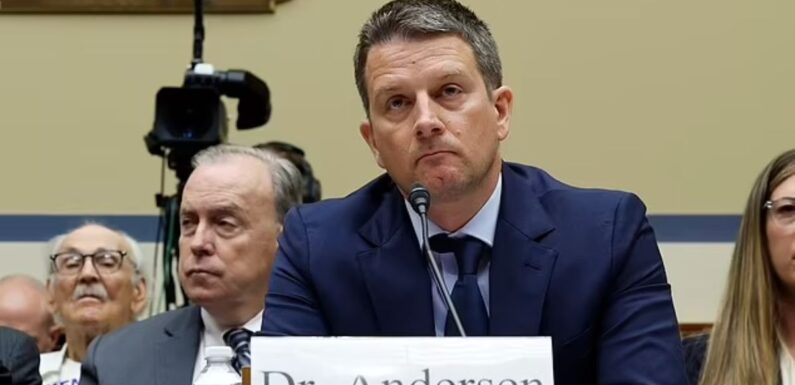 Matt Hancock gets emotional at the Covid Inquiry
Scientists have admitted that the Covid lab leak theory was downplayed and covered up as researchers feared the reaction of China's government.
Insider communications from scientists working on a paper that dismissed the lab leak claim reveal researchers were concerned about how officials in China would react to the theory.
Instant messages were collected by a US House subcommittee and have now revealed the extent of panic among insiders.
Among them was University of Edinburgh biologist Dr. Andrew Rambaut, a co-author of the March 2020 research piece titled The Proximal Origin of SARS-CoV-2.
The authors claimed those who believed the lab leak theory were conspiracy theorists and racists.
READ MORE: CDC unveils the states that are the biggest Covid dodgers in America
Messages from Dr Rambaut, the Daily Mail reports, showed how he was terrified of placing any blame on China for "even accidental release" of COVID-19, as it would cause a political "s*** show".
Instead, Dr Rambaut claimed to be "content with ascribing it to natural process", the Select Committee on the Coronavirus Pandemic heard in Washington, D.C.
Dr Kristian Andersen, a Danish biologist and fellow co-author of the paper, replied that he "totally agreed" with Dr Rambaut's assessment.
He added: "Although I hate when politics is injected into science – but it's impossible not to, especially given the circumstances."
Don't miss…
Why Kate was forced to make beeline for Palace after unexpected health alert[LATEST]
Captain Tom's daughter ordered to rip down massive pool and spa at £1.2m home[INSIGHT]
Ministers 'ignored warning suicides would kill more kids than Covid'[ANALYSIS]
We use your sign-up to provide content in ways you've consented to and to improve our understanding of you. This may include adverts from us and 3rd parties based on our understanding. You can unsubscribe at any time. More info
During the hearing, doctors involved in understanding COVID-19 when it first emerged were interviewed to understand how the virus entered the world.
The House Republicans found that new communications between the scientists in early 2020 were evidence of a cover-up – a claim refuted by the scientists involved.
Documents released prior to the hearing said some scientists investigating the virus wanted more time to review the lab leak claim, but that request was squashed.
Dr Andersen and Dr Robert Garry – another co-author – appeared at the committee hearing and defended the publication of the document and the claims within it.
In another internal message, Dr Andersen wrote on February 4, 2020 that his beliefs on the origin of COVID-19 had shifted, writing: "The main crackpot theories going around at the moment relate to this virus being somehow engineered with intent and that is demonstrably not the case."
During Dr Andersen's grilling, he became involved in a heated exchange with Dr Brad Wenstrup, a US Representative, who told the scientists "grin as you may" as he laid into him.
Another to take aim was New York Rep Nicole Malliotakis, who said Dr Rambaut's "concern was would he p*** off China… that's what his concern was".
She added: "Something happened here [in the brief time between Dr Fauci's first contact with Dr Andersen in early 2020]. Politicians may flip-flop. Scientists do not flip-flop in a matter of 72 hours."
Dr Andersen and Dr Garry both poured cold water on those claims, saying they were shown new data about COVID-19 and changed aspects of their hypothesis as a result.
The lawmakers were attempting to work out where exactly COVID-19 came from, reviewing a myriad of claims including it emerged from a Wuhan wet market.
Source: Read Full Article