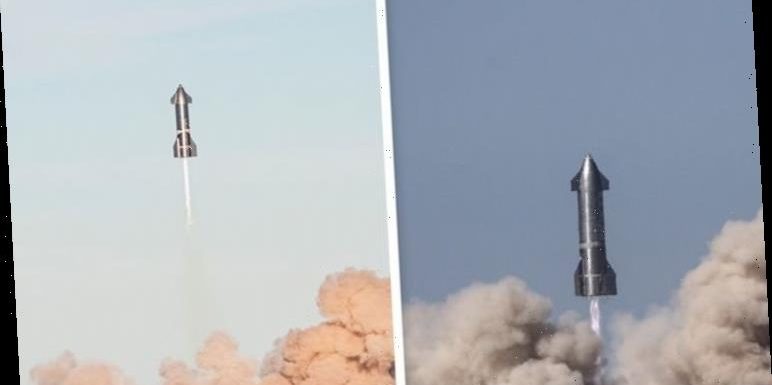 Elon Musk discusses future of SpaceX's Starship system
When you subscribe we will use the information you provide to send you these newsletters.Sometimes they'll include recommendations for other related newsletters or services we offer.Our Privacy Notice explains more about how we use your data, and your rights.You can unsubscribe at any time.
Serial Number 10 (SN10) could be the first Starship prototype to launch and land in one piece at SpaceX's rocket facility in Boca Chica, South Texas. After the fiery crash landings of the SN8 and SN9 iterations, SpaceX fans worldwide are desperate for a bit of good news. SpaceX chief Elon Musk announced earlier this month his futuristic rocket is just two years away from regular spaceflights.
And the end goal of the Starship programme is to build a fleet of rockets ferrying humans and cargo to Mars.
The pressure is, therefore, mounting and SpaceX fans are keeping their fingers crossed for SN10.
One person tweeted: "The launch of the next #Starship will be no earlier than next week!
"Even if today's static test was good, they will wait until Monday or Tuesday to fly and hopefully land under control. #SpaceX"
Another excited fan said: "Please, I want to see a Starship land on the Moon in my lifetime!"
And a third person said: "The third one will take the charm. @StarshipSN10 you can do it."
Starship will launch from Boca Chica to an altitude of at least 6.2 miles (10km) after which it will fall to the ground and attempt a soft landing.
Starship SN8 and SN9 aced the first half of the test flight in December and February, respectively, but were blown to smithereens when they crashed into the launch pad.
SpaceX: Starship SN10's Raptor engines cause static fire
Will Starship SN10 launch this weekend?
SpaceX has completed a second static fire test of Starship's Raptor engines yesterday (February 25) after one of them had to be swapped out.
During a static fire test, the rocket fires its engines at full throttle for a few seconds but remains firmly tethered to the ground.
With the test out of the way, chances are SpaceX will take a few days before launching SN10.
The US Federal Aviation Administration (FAA) has issued flight restrictions over Boca Chica today and on the weekend.
DON'T MISS…
Full Moon meaning: What is the meaning behind February's Snow Moon? [EXPLAINED]
Venus up close: NASA's Parker Solar Probe snaps breathtaking new image [PICTURES]
Asteroid twice the size of a blue whale to pass Earth at 58,000mph [INSIGHT]
The restrictions are in effect from 2pm to 12.30am GMT (8am to 6.30pm CST) on Friday, Saturday and Sunday.
The FAA cited "space operations" up to an unlimited altitude on these days, indicating an imminent launch.
However, the FAA issues these restrictions liberally and they are frequently called off or postponed.
Road closures have also been scheduled for Boca Chica but not until the start of next week.
Cameron County Judge Eddie Trevino Jr has issued closures for Monday and Tuesday, between 3pm and midnight GMT (9am and 6pm CSS).
It looks, therefore, as though a weekend launch is not on the table.
After the SN9 prototype fired its engines on January 22, the rocket did not fly until February 2.
The FAA will also have to clear the spacecraft for launch and this has been a point of contention between Mr Musk and the regulator.
The South African billionaire launched a scathing attack on the FAA after SpaceX was forced to scrub the SN9's launch.
Source: Read Full Article