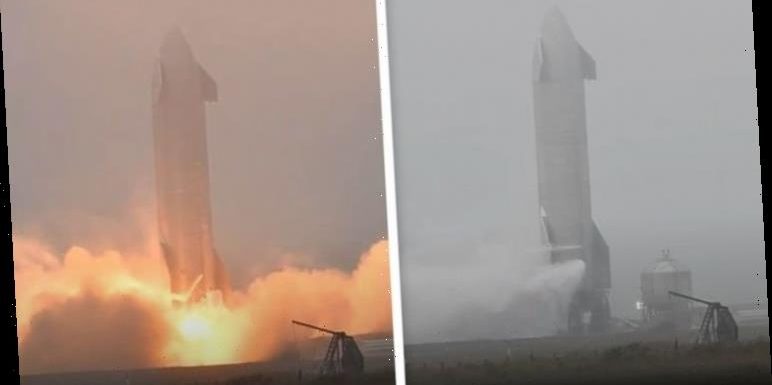 SpaceX Starship SN9 conducts static fire test in Boca Chica
SpaceX fans have been dying to see the Serial Number 9 (SN9) take to the skies after the fiery conclusion to SN8's first suborbital flight last month. The current iteration of the Starship spacecraft has been stood out on the launchpad at Boca Chica, South Texas, for weeks now with no clear launch date in sight. But SpaceX looks to have finally made some progress this week with static fire tests carried out on Thursday and Friday.
Just before 11pm on Thursday (UK Time), the Starship fired its Raptor engines for the first in a series of pre-flight wet rehearsals.
Another static fire test was conducted on the foggy launchpad on Friday, less than a minute before 3pm GMT (9am CST).
Spaceflight photographer John Kraus tweeted: "Starship SN9 conducted a static fire this morning, hopefully paving the way for flight soon.
"I'm back in Florida now, but I'm hoping to head back to Texas to see SN9 take to the skies — and maybe stick the landing!"
We will use your email address only for sending you newsletters. Please see our Privacy Notice for details of your data protection rights.
Aerospace Era tweeted: "Starship SN9 fires up her three raptors. Looks and sounded very good.
"Let's hope the data was good to approve launch next week."
Another SpaceX fan said: "A roaring triple-Raptor STATIC FIRE of #Starship SN9 at @SpaceX Boca Chica, ahead of the highly anticipated 10km FLIGHT."
SpaceX last attempt at a rapid, triple engine test did not pan out as expected.
On January 13, the spacecraft's engines were briefly ignited tree times on the same day.
However, by Friday, SpaceX chief Elon Musk took to Twitter to say two of the Starship's engines needed repairs.
SpaceX attempted another three tests on Wednesday, January 20, but all three were aborted.
Fans are now hoping the new tests point to Starship launching as early as Monday.
The US Federal Aviation Administration (FAA) has issued new flight restrictions around Boca Chica Beach.
DON'T MISS…
Skyrora XL becomes Britain's first 'mission-ready' rocket [INTERVIEW]
Asteroid the size of the Eiffel Tower-sized to fly by Earth – NASA [REPORT]
UFO sighting: Claim video captures 'close encounter' with 'aliens' [VIDEO]
SpaceX: Simulation demonstrates 'Super Heavy' rocket landing
The restrictions cite "space operations" in the area and cover an unlimited altitude, even though SN9 is expected to only launch to a height of 6.2 miles (10km).
The restrictions have been issued for Sunday, January 24, through to Monday, January 25.
The launch window is open between midnight on Sunday and 6am CST on Monday (6am and 12am GMT).
SN9 is expected to launch to an altitude of about 6.2 miles (10km) after which it will return to Earth and touchdown at Boca Chica.
The previous Starship iterations, the SN8, attempted the same manoeuvre but failed to stick the landing.
SpaceX is developing Starship as a multi-planetary launch vehicle capable of reaching the Moon, Mars and maybe even beyond.
Starship will launch on top of the Super Heavy booster and both rockets will be fully reusable.
Mr Musk tweeted last year: "Production is hard, prototypes are easy. Building ~1000 Starships to create a self-sustaining city on Mars is our mission."
Source: Read Full Article