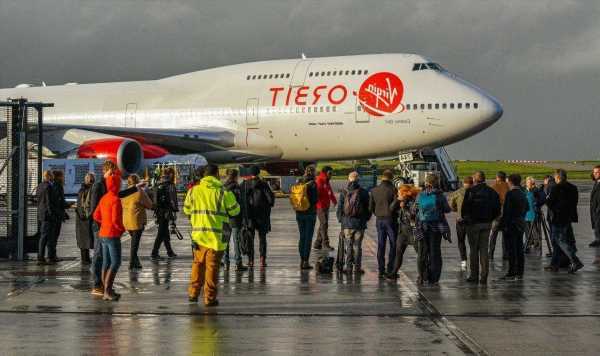 Virgin Orbit's Cosmic Girl aircraft carrier arrives in Cornwall
We use your sign-up to provide content in ways you've consented to and to improve our understanding of you. This may include adverts from us and 3rd parties based on our understanding. You can unsubscribe at any time. More info
Lucky spectators are "incredibly excited" for the UK's first space launch tonight, so much so that tickets are reported to have sold out "quicker than Glastonbury", Express.co.uk has been told. In a flagship moment for the UK's burgeoning space sector, Virgin Orbit's Start Me Up mission is set to see the first-ever space launch blast off from British soil down in Cornwall later this evening.
Around 2,500 members of the public were lucky enough to get their hands on a ticket to view the historic event, which "apparently sold out quicker than Glastonbury".
Speaking exclusively to Express.co.uk, Science Minister George Freeman said: "It's incredibly exciting…apparently the tickets sold out for the public faster than Glastonbury. There are 2,500 members of the public here on a pretty dark, cold wet night which I think says something about the level of interest.
"I think it is an incredibly humbling and inspiring night. In the 1960s, JFK sent the Americans on the Apollo Moon mission and inspired a whole generation and laid the foundations for major USA technological leadership. In many ways, this is our UK achievement."
The so-called horizontal launch will see Virgin Orbit's modified Boeing 747 take off from Spaceport Cornwall's designated runway at Newquay Airport Cornwall carrying the LauncherOne rocket under its wing.
The rocket will be ferried 35,000 feet up into the atmosphere under its wing before being jettisoned into space under its own power, taking nine small satellites into low-Earth orbit.
According to Mr Freeman, the event is a sign that the UK can become a global player in the space industry in a major win for post-Brexit Britain, putting it "in the lead" in the European space race.
He said: "This puts us in the lead in the European race for space. The Norwegians are very close behind us and the last time we reached them to the north and south pole they beat us, so it is nice to level the playing field.
"It is also a huge commercial boost for our £16billion space sector. We have been very strong historically on space science and space technology, but we were a bit like Formula One pitlane without a car.
"But tonight with the Virgin launch we do have not just the pitlane but the vehicle in it. We are very serious and are sending a signal internationally that we will be a big player in the global small satellite industry."
This is a breaking story. More to follow.
We'll be bringing you the very latest updates, pictures and video on this breaking news story.
For the latest news and breaking news visit: /news
Stay up to date with all the big headlines, pictures, analysis, opinion and video on the stories that matter to you.
Follow our social media accounts here on facebook.com/DailyExpress and @Daily_Express
Source: Read Full Article