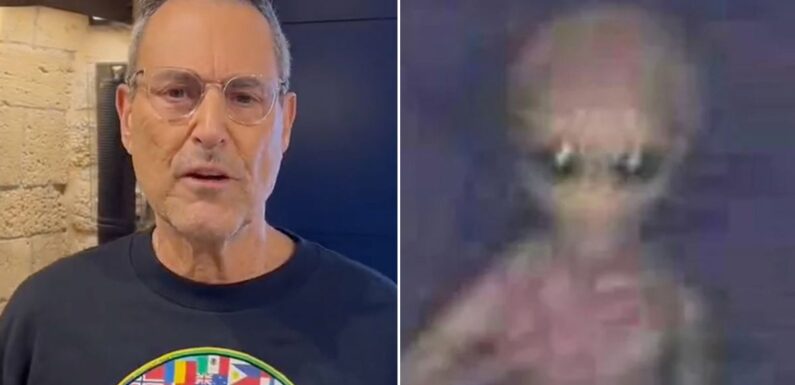 Psychic Uri Geller has claimed Facebook tried to censor him posting a photo of an 'alien' who was naked after his account was hit with a warning.
The spoon-bender reported the image on X, formerly Twitter, and told his followers of the warning he got suggesting the snap "showed nudity or sexual activity".
Geller has since cropped the photo of the "female alien", a snap he says was given to him by horror writer Whitley Strieber.
Strieber, who claims he was abducted by aliens in 1985 , shared pictures of the alien in an unknown basement with Geller after being convinced they are "real".
READ MORE: Uri Geller saw UFO while thinking 'how to communicate telepathically with aliens'
Posting on his X account, Geller said: "Friends shocking!!!!!!!!!!!!!
"My female alien photo which I received from Whitley Strieber was just removed from my Facebook posting for SHOWING NUDITY or SEXUAL activity!!!!! (sic)"
Speaking back on the original, now deleted, post, Geller said: "Whitley said that this image is probably real. It is also of the beings that he sees and has seen and been with.
"He thinks it is real because of two things.
"The prominent vagina is immediately evident when you see them naked but it is not commented on in the UFO Literature because very few people actually see them, especially not naked."
Uri Geller unveils 'real' photo of 'naked alien with prominent lady bits'
Geller later posted the warning from Facebook and later answered questions from sceptics.
He replied to one questioning if it was a doll by simply saying: "I believe Whitley Strieber."
Others questioned the Facebook warning saying "Is it nudity if there aren't any "sexual organs".
The incident comes after Geller "swears" he saw an alien spacecraft flying overhead while he was thinking about how to communicate with aliens.
NASA 'discovered alien life 50 years ago but accidentally killed it off'
Geller posted a video on his X account of flashing lights in the sky flying overhead last week.
He wrote: "My dear friends I swear to you yesterday I was exercising on my roof with my machine and was thinking how great it would be to be able to communicate telepathically with aliens.
"And tonight this thing flys over (sic).
Keep up to date with all the latest news stories. By signing up for one of Daily Star's free newsletters here.
Source: Read Full Article