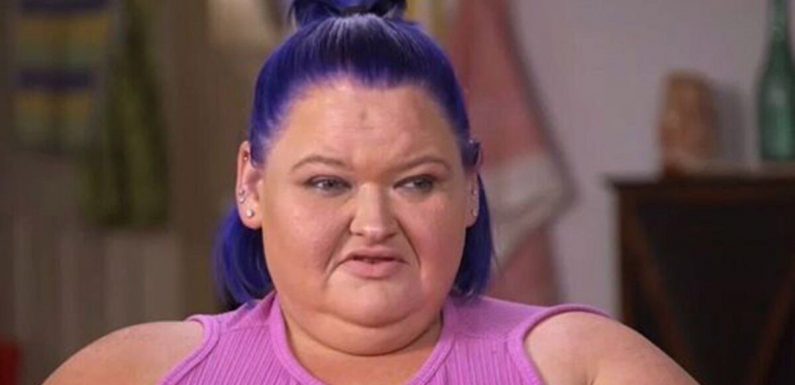 1000lb Sisters: Amy Slaton struggles to console her kids
Amy Slaton stars alongside her sister Tammy Slaton in the TLC series 1000lb Sisters. In the first season of the series, in January 2020, she tipped the scales at 406 pounds. Express.co.uk has all you need to know about how far she has come on her weight loss journey.
How much weight has Amy Slaton lost?
Amy has inspired her followers with her weight loss journey, which was put on pause during her pregnancy with her second child.
Starting off at 406 pounds, she was approved for gastric bypass surgery in 2019 after following her doctor's diet and exercise plan.
By season three, which aired in 2022, she lost an extra 136 pounds, finishing the series weighing 275 pounds.
Amy said of her journey: "I'm kind of nervous, because I don't think I am where I'm supposed to be in my weight loss goal.
View this post on Instagram

A post shared by Amy Halterman (@amyslaton_halterman)
"I avoid the scale because then I'm focused on the number going down.
"And if I see it going up, it's going to make me depressed and wanna eat more. So, it's best not to look at it."
Amy welcomed her second child, son Glenn, in July 2022.
Before he was born, she had dropped in clothing sizes from wearing a 5X size to a 1X size.
Now, it's estimated Amy is down to approximately 225 pounds, putting her close to her initial goal.
In March 2023 Amy shared a few photos of herself rocking purple hair as she said: "Beautiful day to smile!!!"
Follower drose34710 said: "Wow, you look like you are dropping the pounds again. You look fresh and happy."
Dale.Anne.7 added: "Wow you have trimmed down! Good for you Amy!"
Don't miss…
Four in a Bed viewers fume over 'ridiculous' breakfast[LATEST]
1000lb Sisters could 'update' viewers on Amy's divorce in new series[INSIGHT]
Amy Slaton flaunts major weight loss and says she's 'feeling herself'[VIDEO]
The star told her fans she was "feeling herself" in a video on her TikTok account.
The post was accompanied by the song I'm A Survivor by Reba McEntire.
Follower @tonyajeanpoole said: "You look awesome, and you are an inspiration a great Momma that loves her babies."
The post comes after Amy's reported divorce from husband Michael Halterman.
As for her sister Tammy, she achieved her weight loss goal in one episode of the series.
She needed to drop from 717 pounds to 550 pounds in order to qualify for weight loss surgery.
Viewers were thrilled when she found out she had made it down to 534 pounds.
It is estimated Tammy is down to 375 pounds, as fans learned she fell below 400 pounds after her February 2023 weight loss surgery.
1000lb Sisters seasons one to four aired on TLC in the USA.
Source: Read Full Article