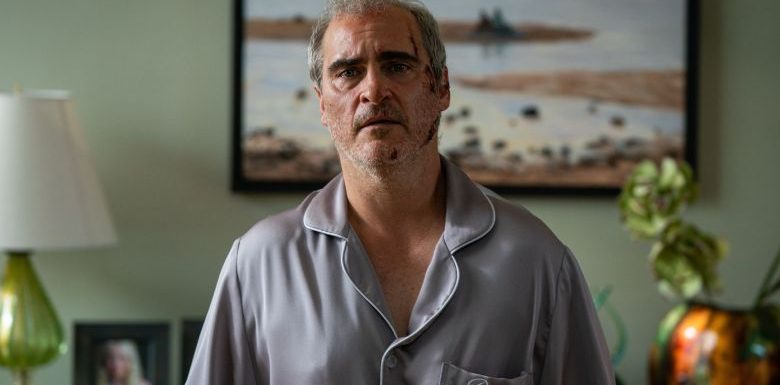 "He's sick in the head. He's not well."
That's Emma Stone talking about Joaquin Phoenix's character in Ari Aster's "Beau Is Afraid," which surprise-screened for public and press at the Alamo Drafthouse Brooklyn on Saturday, April 1. Fitting, because as an April Fool's joke, distributor A24 in partnership with the theater chain billed the event as a "Midsommar" director's cut, before bait-and-switching with the first-ever screening of Ari Aster's nightmare comedy starring Phoenix as a guilty and repressed man on a deranged odyssey to reunite with his mother.
But Stone is also describing the film's director, the mind behind "Hereditary" and "Midsommar." Though she's never worked with him, Stone was there as a surprise moderator for the event — which Joaquin Phoenix, down to skin and bones and still in "Joker 2" character mode, briefly introed — alongside Ari Aster, who said it's "really awful" because "I've started press…and I don't know what to say about this movie."
Indeed, at three hours long, trying to recount "Beau Is Afraid" is like trying to map out somebody's dream. In the existential epic that blends Freud, Kafka, and Charlie Kaufman, along with Aster's signature touch for rotted-to-the-core family dynamics, Beau (Phoenix) lives in a chaotic world well past the brink of apocalyptic destruction. The streets are overrun by psychotic people. Everywhere is papered with dystopian headlines ("Dying Wish: 15 Celebrities Who Asked to Be Buried Face Down") and advertisements ("Death by Anal, Murder by Fuck").
The film was shot in Montreal, but with its massive, Hieronymous Boschian soup of urban soup, it looks a bit perhaps like downtown LA. After escaping his crummy apartment, Beau travels far and long and across many weird set pieces to find his mother, played in flashback by Zoe Lister-Jones and in present-day (if you can call it that) by a ferociously scene-chewing Patti LuPone.
The movie's relentless first half is excruciating and hilarious, with Phoenix taking on many wild stunts in one of his most physically challenging turns yet. And along the way, everything that could go wrong for Beau does, from getting his housekeys and suitcase stolen on the way to the airport, his apartment ransacked by feral vagabonds, and getting drugged and held hostage by a loopy couple (Amy Ryan and Nathan Lane) looking to replace their dead son.
"I reached out to Joaquin in summer 2020," Aster said of their first interactions. "It was a very long courtship of us having Zoom calls and him being like, 'Why the fuck would I ever do this?' And I'm like, 'I don't know, don't ask me.' And then finally he caved. I think some kid told him, 'Oh, you should do it.'"
Phoenix gets stabbed, shot, breaks through glass, gets run over by a car, and endures all manner of moments that blend bone-crunching body horror violence with haywire physical comedy. And his character, uh, deeply needs to ejaculate, which he's been putting off his whole life due to a family curse where his father and grandfather and great-grandfather before him died upon their first orgasm. (And in the case of Beau's father, at the very moment of conception.)
Joaquin Phoenix and Ari Aster on the set of "Beau Is Afraid"
A24
"Every dangerous thing Beau does, Joaquin did," Aster said. "The thing that's surprising about him. I was thinking he'd be able to do everything once and then not repeat it, but he's so technical, and part of what was amazing is the fact that he has to feel his way through everything, and everything has to feel honest."
"Beau Is Afraid" at one point pushed Phoenix to debilitating physical exhaustion, with the actor passing out during the production.
"At the end of the film, it was the last week, and he was working with Patti, and there was a scene that was very intense for Patti, and it was a shot that was on Patti, not on him. All the sudden, he fell out of frame, and I was really pissed because it was a really good take," Aster recalled. "It felt confusing, so I went around the corner to the monitor, and he was collapsed. He fainted. And I knew that it was bad because he was letting people touch him. People were tending to him, and he was allowing it, and he was very confused. He fainted. He fainted in somebody else's take. The shot was for them, not for him, he was helping them. He was in it for them, to the point where he collapsed. It's very poetic that he collapsed on somebody else's shot."
The stacked cast includes Amy Ryan, Nathan Lane, and Parker Posey, and Aster said it "was mostly first choices." As for LuPone, the Broadway legend making a rare big-screen appearance, "I saw Patti in a David Mamet play like 10 years ago, and I was very impressed with her, and as we were thinking about who could be Mona, I saw a red carpet photo of her where she was just terrifying. It was very clear she should be Beau's mom."
"Beau Is Afraid"
A24
"Beau" was actually meant to be Aster's first movie after graduating from the AFI Conservatory, where his disturbing short film "The Strange Thing About the Johnsons," about an incestuous and abusive relationship between a son and father, went viral and announced Aster's very particular brand of sick gifts. But he instead made "Hereditary" for $10 million at A24 and "Midsommar" for $9 million afterward. "Beau," at $35 million, is his biggest canvas, on the level of Orson Welles' "The Trial" or Kaufman's "Synecdoche, New York" in terms of ambition, scope, and world-building.
"I can't imagine that this was the first one because I wouldn't have had the resources to make this," Aster said, emboldened by the runaway box-office success of his previous features. (One of the more expensive features of the movie, surely? Clearing the rights to a certain Mariah Carey song, whose usage in the movie is going to send people over the edge.)
"Every morning going to set is like a funeral march," said Aster, who remains self-deprecating and even uncomfortable toward talking about his work. "It's just like, why would I do this? People are looking at you, they don't want to talk. There's nothing like getting something finished, that's behind you, that's very nice, and this is a special film for me in that, for a long time, this was a receptacle for so many ideas… feelings of ambivalence, or anxiety about traveling. Do I go on Monday or Tuesday? Even like lunch is just, it's horrible. In LA, every lunch, you have to choose where you're going to drive."
"Beau Is Afraid" opens in New York and Los Angeles on April 14, followed by theaters everywhere on A24.
Source: Read Full Article