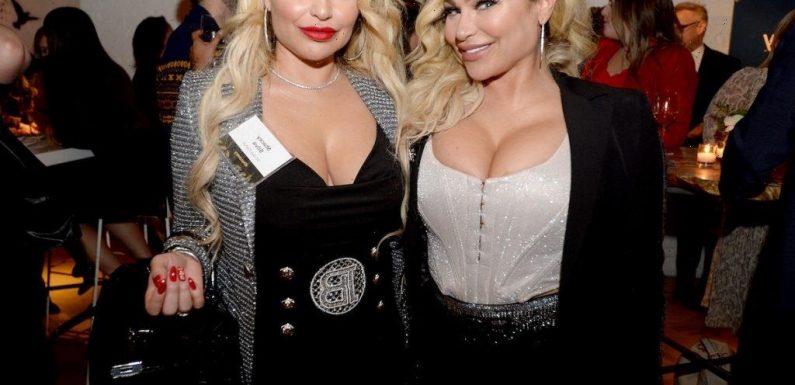 Get ready 90 Day Fiancé fans, because the Silva sisters are coming back. Darcey Silva, who became a household name in the 90 Day Fiancé franchise, is returning to the franchise with her twin sister, Stacey Silva, in season 2 of their popular series, Darcey & Stacey. There's a brand-new "sneak peek" of the upcoming season, which returns in the summer. We have all the information to know about the new trailer.
'Darcey & Stacey' returns with season 2 in new 'sneak peek'
The new trailer dropped on May 30, 2021, on the official social media channels. The video already has more than 89,000 views on the 90 Day Fiancé Instagram page. The new season, which is coming in the summer of 2021, is going to bring the drama if this trailer is anything to go on.
It starts with our favorite sisters on a boat, and Darcey says, "We're the twin queens!" They clap their hands and raise them in the air in the iconic moment as they continue shouting together.
Next, we see Florida Sukaj, who married Stacey in secret in season 1, saying to her, "I'd like to, to have kids, understand, with you."
"It hasn't happened yet," Stacey says to the cameras. We get to see her at a doctor's appointment appearing to have a sonogram. "If I can't give Florian a baby, he might leave me one day." It sounds like a more than complicated situation.
Darcey and Georgi's problems continue
https://www.instagram.com/p/CPhMnp-B1rp/
Then we see the sisters surrounded by their significant others – Stacey seated with Florian and Darcey next to her fiancé, Georgi Rusev. "I just want to make sure he's in it for love, and for the big heart, not the big wallet," Stacey tells them.
Apparently, things are going to get heated. We next see Darcey standing up and Georgi saying, "I don't have my daddy to support me. I don't have nobody."
Darcey sits back down, saying, "Don't you ever disrespect me like that."
"I don't say nothing to you," Georgi says.
"How dare you," Darcey continues as she gets up.
It looks like problems are going to continue between Darcey and Georgi like in season 1. "I'm having a hard time truly trusting Georgi," Darcey tells the cameras.
Georgi is going to talk with Darcey's ex
But things get even wilder when Georgi has a video chat conversation with Darcey's ex, Jesse Meester.
"Georgi," Jesse says.
"Hi Jesse," Georgi replies, and we even get to see Jesse on the call.
Then, Darcey speaks to her friend, presumably about Georgi really upset. "Liar," Darcey says. "He doesn't love me. I'm tired of it."
"I'll never, you know, be loved," Darcey tells the cameras.
The drama is palpable, and this season is going to be jaw-dropping. Fans don't have to wait too much longer before seeing the Silva twins again. And it seems like the wait is going to be more than worth it for season 2 of Darcey & Stacey.
Source: Read Full Article