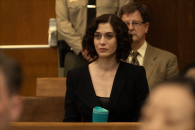 When the Paramount+ series adaptation of Adrian Lyne's blockbuster 1987 psychosexual thriller "Fatal Attraction" arrives later this year, the series will aim to tell Alex Forrest's side of the story. Glenn Close played the "boiling bunnies" baddie in the iconic original, an editor of a publishing house who takes up an ill-fated affair with a successful Manhattan lawyer, played by Michael Douglas.
Anyone who's seen the original or knows the cues of the tragic opera "Madame Butterfly" knows that it doesn't end well for Alex.
But that's precisely why showrunner, writer, and executive producer Alexandra Cunningham ("Dirty John") wanted to turn the story on its head, here casting Lizzy Caplan in the role of Alex. (It was one of the reasons why she couldn't fully commit to the Starz revival of "Party Down" outside of a season-finale cameo.) Joshua Jackson plays Dan Gallagher (the Douglas) role with Amanda Peet stepping into Anne Archer's role as Dan's wife Beth. Both Close and Archer earned Academy Award nominations for their performances.
The series shifts up the timeline a bit, too. In the present day, after serving 15 years in prison for Alex's murder, Dan is paroled with the goals of reconnecting with his family and proving his innocence. In 2008, Dan first meets Alex and his world begins to unravel after their brief affair threatens to destroy the life he's built with his Beth.
The original film's star Glenn Close has always hoped a reimagining of the movie would delve deeper into Alex's side of the story. (She originally advocated for a much more tragic ending, with Alex dying by her own agency.) "I loved that character. I'm thrilled that movie has become part of our culture. … It's easy to make fun of and make unbalanced people the bad guy — that perpetuates the stigma," she told IndieWire in 2019.
Cunningham heads up the show alongside executive producer Kevin J. Hynes ("Perry Mason"), with whom Cunningham developed the series, and executive producers Darryl Frank ("The Americans") and Justin Falvey ("The Americans") for Amblin Television. Silver Tree also serves as executive producer and directed five episodes.
Watch the trailer for "Fatal Attraction" below. The series premieres on Paramount+ Sunday, April 30.
Source: Read Full Article