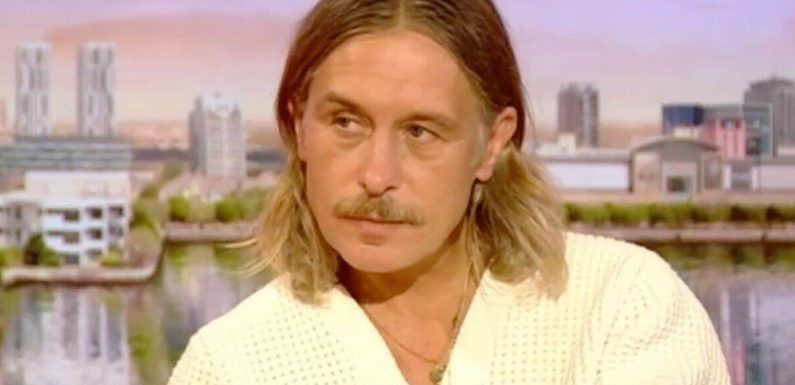 Mark Owen discusses his moustache with Sally Nugent
We use your sign-up to provide content in ways you've consented to and to improve our understanding of you. This may include adverts from us and 3rd parties based on our understanding. You can unsubscribe at any time. More info
With new music in the pipeline, Mark Owen was keen to tease what fans can expect when he joined Jon Kay and Sally Nugent on the BBC Breakfast sofas on Monday. And while the news of new music will undoubtedly excite Take That fans, it seems many were more concerned with Mark's new look – one that is worlds away from his days in the boy band.
In fact, Sally addressed Mark's new look outright, probing the singer about why he now dons a moustache.
Referring to his Take That days, Dally asked: "Actually, you look different. The moustache, how long has that been there?"
Mark replied: "It's been there for about four years probably. It started off as a beard and then my beard got a bit patchy on this side. Then we were going on tour, and beards can get a bit sweaty on tour…"
Sally interrupted to then jokes about co-host Jon's facial hair, to which he chimed in: "Yeah, yeah, patchy beards, I'm with you, Mark."
Sally let out a chuckle as Mark continued: "So then it became a moustache and it sort of stuck.
"My children keep threatening to cut it off, they're like, 'Can we just…?'
"And I (say), 'No! It has to stay.' I said, 'I've done my artwork I can't change the look!' I've done the video, I can't change my look now.
Reacting to the new look from home, Twitter user @Harsha35063462 admitted they were distracted: "Can't stop looking at Mike Owens moustache #BBCBreakfast."
While @doubletop jokingly weighed in on Mark's look: "#BBCBreakfast whoa! It's Brad Pitt's dad."
Elsewhere, @JustKillMeNow1O pulled no punches as they queried: "Good Lord, what's happened to Mark Owen?? #BBCBreakfast."
And @C00k13Pu55 quipped: "Is he moonlighting as a 70s themed p**n star??? #BBCBreakfast."
Ken Brisbane also didn't mince their words as they commented: "Moustache…Mark Owen…No, Sir… #BBCBreakfast."
While Maggie Mannifield was simply full of praise for the singer: "Isn't Mark Owen just lovely #BBCBreakfast."
However, some weren't happy that Sally had decided to quiz Mark on his look.
BBC viewer Dylan Roberts hit out: "Sally to an aging Mark Owen: You look different. Nice Sally, really nice.#BBCBreakfast." (Sic)
MORE TO FOLLOW…
Source: Read Full Article