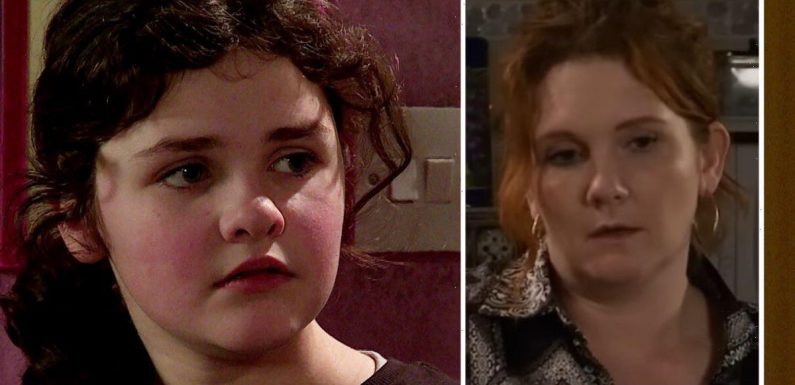 Coronation Street: Tyrone buys Hope and Ruby a Chinchilla
We use your sign-up to provide content in ways you've consented to and to improve our understanding of you. This may include adverts from us and 3rd parties based on our understanding. You can unsubscribe at any time. More info
However, on Thursday evening Hope (played by Isabella Flanagan) was left heartbroken after finding Cilla lying on the ground. Tyrone (Alan Halsall) broke the news to his daughter that Cilla had died, with Hope blaming Kirk Sutherland's (Andrew Whyment) dog Peanut for her death. Fans now fear for the pup with many theorising she will be Hope's next victim.
Tyrone and Fiz (Jennie McAlpine) returned from their hotel stay to find Hope and Ruby Dobbs (Macy Alabi) arguing with their grandmother, Evelyn Plummer (Maureen Lipman).
Ignoring what Tyrone had said about her attitude, Hope handed him a piece of paper with a list of items on it for Cilla.
She revealed it would "only" cost £100 and she needed Tyrone to pay for it, leaving her parents to scoff at the request.
Tyrone declined, with Fiz informing her daughter she needed to use her pocket money to provide nice new items for her pet.
Later, outside Webster's Auto Centre, Kirk asked if they were able to watch his and Beth Tinker's (Lisa George) dog Peanut whilst they went away for the night.
Seizing the moment to try and teach Hope the value of money, Fix explained if he asked Hope to look after the dog in exchange for some money, she would say yes.
After driving a hard bargain, Kirk and Hope settled on £10 for the night, before the youngster eagerly got Cilla out of her cage, however, Peanut was left less than impressed.
The girls later came down the stairs when Hope realised she had accidentally left Cilla's cage open, and soon found her pet lying still on the floor.
Desperate to bring the animal back to life, Tyrone went to give it CPR before being interrupted by Evelyn who was confused by the scene.
He explained: "It was meant to be the kiss of life…"
Turning to her daughter, Fiz said: "Darling I am so sorry but I am afraid Cilla is gone, sweetheart."
Hope sat down on the sofa, whilst Fiz handed her a drink but she soon turned toward Peanut and exclaimed: "It was the dog."
Kirk and Beth rushed over to their house after finding out what had happened but pointed out there were no marks on Cilla, meaning it couldn't have been Peanut.
The family decided to bury Cilla in Victoria Gardens, where Hope had written out a few words to say.
She began: "Goodbye my chinchilla, goodbye my Cilla. You were the best chinchilla for me. You were the greatest of chinchilla there has ever been.
"I loved you better than my sister. You will be so missed. I love you Cilla. No one can replace Cilla. Your death will not be in vain my furry friend, you will get your revenge."
Fans of the show believe Hope intentionally left the cage open for attention, and fear for Peanut's life as she plots her revenge.
Bradley Coombes feared: "Peanut is in trouble with Hope I reckon #corrie #coronationstreet."
Lewis Lowes exclaimed: "Watch out peanut you're in trouble #corrie #coronationstreet"
Rhys Thompson commented: "Hope stop being an evil little sod. If Fiz continues to believe her rubbish then she's even more stupid than she looks.
"She needs to stop wrapping her in cotton wool and making excuses. #corrie #coronationstreet." (sic)
Shane Fitzpatrick claimed: "Hope probably killed Cilla the Chinchilla! #CoronationStreet #Corrie."
@Wee_Westie29 theorised: "I wonder if Ruby 'accidentally' let Cilla out by leaving her cage door open, hoping she'd run away? #Corrie #CoronationStreet @itvcorrie."
@CAMSTAM8 added: "Is Hope gonna go get her 'revenge' by killing poor Peanut… if she does then she has some issues." (sic)
Coronation Street airs Monday, Wednesday and Friday from 8pm on ITV.
Source: Read Full Article