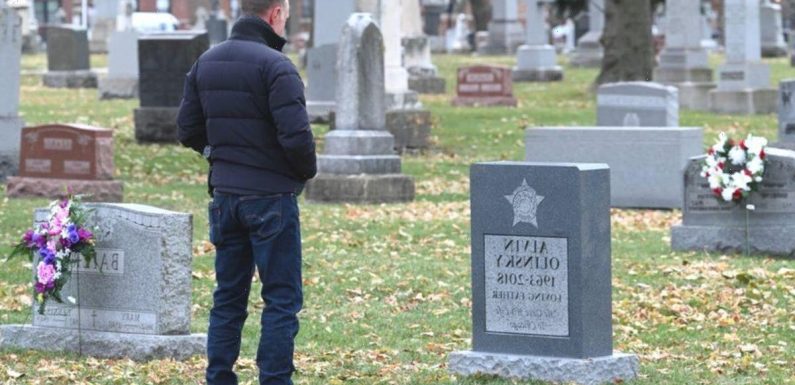 Chicago PD: NBC release teaser for gripping 200th episode
We use your sign-up to provide content in ways you've consented to and to improve our understanding of you. This may include adverts from us and 3rd parties based on our understanding. You can unsubscribe at any time. More info
As ASA Nina Chapman's (played by Sara Bues) case took an interesting turn, Hank Voight (Jason Beghe) took the time to remember his oldest friend Alvin Olinsky (Elias Koteas). The scene led Chicago PD fans to become overwhelmed with emotion as they took to social media with tributes for the late detective.
The most recent episode titled, The Ghost in You, kicked off with the beloved sergeant Voight arriving at a cemetery.
After a brief conversation with the groundskeeper Jimmy (Jim Johnson), Voight headed over to Olinksy's grave.
Voight held back tears as he stared at the headstone and then proceeded to pull a flask out from his pocket.
He poured some out for his friend before taking a swig himself.
Less than 15 minutes into the episode, viewers were moved to tears as the usually tough and no-nonsense sergeant displayed a brief moment of emotion.
Taking to Twitter, @HWoodWorldSport stated: "Seeing Hank Voight standing at Alvin Olinsky grave was a very powerful moment."
An emotional @IAmSnazzyDaisy tweeted: "#ChicagoPD Killing off Alvin Olinsky is the biggest mistake ever!!! I still miss Al."
A third viewer @RobertD555 added: "#ChicagoPD tugged at my heartstrings by having Voight visit the grave of Alvin Olinsky I didn't expect that."
In disbelief, @lexiesdaisy shared: "I can't believe it's been nearly 5 years since we lost Olinsky."
A tearful @TNLM1821 asked: "Starting off with Voight at Olinsky's grave, why??!!"
While @idontcare8273 remarked: "I'm still annoyed they killed Olinsky." (sic)
Olinsky met his tragic gut-wrenching death during the season five finale.
This came after Voight decided to avenge his son Justin Voight's (Josh Segarra) death by murdering his killer Kevin Bingham (Joseph Sikora).
While Olinksy was in jail, he was stabbed multiple times but died during surgery.
As well as being a highly skilled undercover detective, he was also Voight's closest friend.
The rest of the episode saw Voight use his rogue ways to go after his best friend's murderer, who he eventually tracked down and killed,
While fans are still reeling from his death, showrunner Rick Eid lifted the lid on his decision to kill off the character.
Rick shared: "From a creative perspective, it was a decision that evolved organically from the ongoing storyline between Voight and Woods."
At the time Voight's former partner Denny Woods (Mykelti Williamson) was intent on destroying his life.
Speaking to TV Line, he added: "The writers and I kept coming back to the idea that Voight's decision to kill Bingham should cost him something.
"Over time, we landed on the notion that Olinsky should be the person to pay for Voight's sin because Voight admired and loved him so much."
Chicago PD season 10 continues Wednesdays on NBC in the USA.
Source: Read Full Article