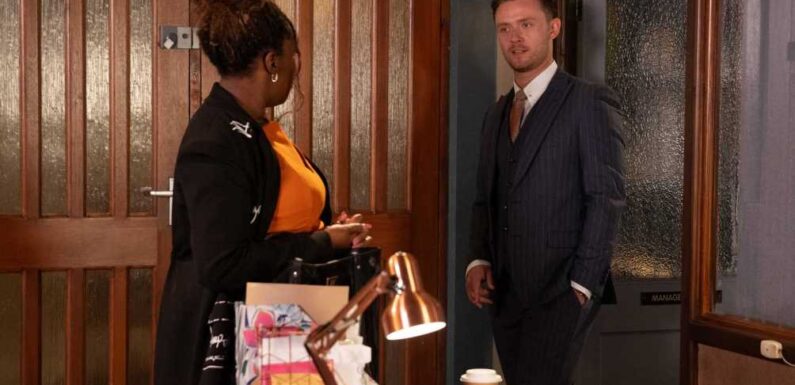 SINCE arriving on the scene at Coronation Street Joel has begun to pursue a romance with Dee-Dee Bailey, but eagle-eyed viewers may recognise him from another soap.
New character Joel Deering, who is being played by Calum Lill, has joined the Cobbles as a duty solicitor.
And he seems to have set his sights on fan favourite Dee-Dee, having already asked her out for drinks.
However, though Calum is new to the show, he should prove to be a familiar face for viewers.
The actor is also known for playing villain P.C Smith on Hollyoaks.
He began playing the vindictive policeman in March 2021.
in TV
Soap stars who fell for rival show actors as Dales star weds Enders baddie
Hollyoaks leaves Channel 4 in HUGE soap shake-up
The Hollyoaks baddie appeared in 12 episodes of the soap, where he got on the wrong side of the law while trying to frame John Paul for the murder of his abusive friend George Kiss.
Now soap fans will get to see a whole new side of Calum, as he plays a more romantic character.
He starts off by going out for drinks with Dee-Dee, which he sees as a date, but she thinks was a work related meeting.
The career focused solicitor gets her books out, excited for a chance to explain US law to him, but ends up kicking herself later when she realises her mistake.
Most read in Soaps
CHANNEL HOPPING
Soap stars who fell for rival show actors as Dales star weds Enders baddie
ALL IS WELL
EastEnders star reveals he's married fiancee 3 years after split
EMMERFAIL
Jacob fights for his life after Victoria makes a mistake in Emmerdale
CAR SHARE
Emmerdale fans 'work out' Tom King's shocking secret after carjack horror
Joel attempts to ask her out for dinner another day, but when Dee-Dee says she is busy for the next few nights the lawyer thinks he has been shot down and heads home.
This leaves the possibility of romance down to their co-worker Adam, who will have to play matchmaker to get the two together.
We pay for your stories!
Do you have a story for The Sun Showbiz team?
Email [email protected] or call us direct on 0207 782 4220 .
We pay for videos too. Click here to upload yours.
Source: Read Full Article