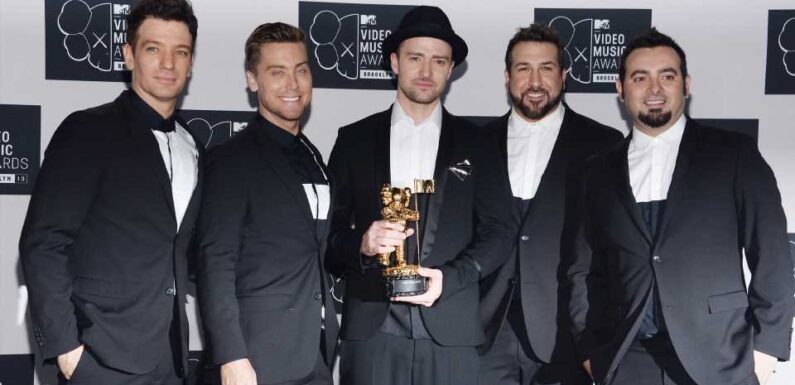 FOLLOWING their split, each of the NSYNC members went on to experience solo success on their own.
10 years after they briefly reunited at the 2013 MTV VMAs, it appears the defunct boy band is coming together once again.
Are *NSYNC getting back together?
On September 12, 2023, it was reported that NSYNC is scheduled to reunite at the year's MTV VMA Awards.
However, it is rumored the group is only slated to present at the ceremony.
That Tuesday, the 2023 MTV VMAs is premiering via the existing network at 8pm EST and is available to live stream on Paramount+; which will give fans the opportunity to see if the speculation is true or false.
Their last performance together was at the 2013 edition of the abovementioned awards show.
The rumors began to circulate after TMZ spotted Justin Timberlake, Joey Fatone, and Lance Bass were photographed in New York City.
JC Chasez and Chris Kirkpatrick are also speculated to be in Manhattan.
The reports follow the whispers of NSYNC recording new music together for the first time since their fourth album Celebrity.
The new music is believed to be a part of the soundtrack for Trolls Band Together; which is scheduled for release on November 17, 2023.
Most read in Celebrity
TRAGIC END
Horror pics show 230ft cliff where reality star, 36, died in tragic car plunge
UTTER NAD-NESS!
Fury after Strictly axe Nadiya Bychkova for new season leaving her 'upset'
ENDER THE ROAD
Enders in crisis as Brian Conley quits to leave key storyline in tatters
TODDLER TRAGEDY
Woman arrested for murder after girl, 2, found in pond 200 yards from home
When was NSYNC formed?
On October 22, 1995, NSYNC made their official debut; their first performance was at the Pleasure Island area of Walt Disney World.
The beginning of the band's formation can be traced back to when Chris Kirkpatrick was introduced to the late Lou Pearlman by a mutual friend.
After Chris auditioned and didn't make the lineup for the Backstreet Boys, he and Pearlman began talks about forming a second group.
Pearlman agreed to finance the idea if Chris could recruit four more members.
Chris then contacted Joey Fatone and Pearlman contacted Justin Timberlake to come aboard.
Justin soon asked his fellow Mickey Mouse Club co-star JC Chasez to join the group.
NSYNC's lineup was completed when Justin's vocal coach recommended Lance Bass to the members.
Following his audition, Lance was immediately accepted into the band.
"When I first sat down with Lou…he had it in his mind that he was ready to have another band," Chris recalled to ABC's 20/20.
"So right away I was totally in. When I got a hold of Justin, the first thing Justin's mom suggested was, 'He's been working really closely with one of his friends from The Mickey Mouse Club… JC [Chasez].'
"We needed to find the bass. Justin's vocal coach had called and said, 'I've got this kid out of Mississippi and I want you to hear him.'"
Lance remembered: "In Mississippi, no one ever dreamt of being a successful musician.
"It just was kind of out of the cards for someone like me.
"I arrive at baggage claim and there's 14-year-old Justin Timberlake sitting on the baggage belt looking really cool and sly, and I'm like, 'Wow…this kid's cool.'
"Then, you have Lou Pearlman…and they pull up in a limo and a Rolls Royce, and that's how I'm introduced to this whole world."
How did NSYNC get their name?
The NSYNC members credit Justin's mother Lynn with coining the band's name.
During a rehearsal, she made a comment on how in sync their voices were.
From that point, the boys tweaked the word "in sync" to fit the last letter of each of their first names.
READ MORE SUN STORIES
BBC radio DJ in on-air rant during final show which bosses tried to silence
Horror pics show 230ft cliff where reality star, 36, died in tragic car plunge
N for JustiN, S for ChriS, Y for JoeY, N for LansteN, and C for JC.
The guys joked about extending Lance's actual first name to Lansten to fit the band's moniker.
Source: Read Full Article