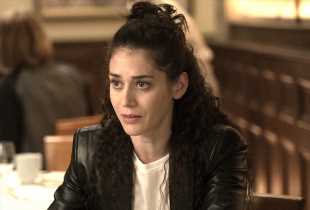 Those of us who saw 1987's Fatal Attraction movie — in other words, all of us — might have thought that we knew how Paramount+'s series adaptation was going to end. But no, the thriller turned out to be as twisted as poor Alex's mind, and Sunday's two-part finale, as much a Season 2 preview as a Season 1 conclusion. That said, you are hereby warned that if you keep reading, you will find out spoilers. A whole bloody mess of spoilers.
Still with me? Let's recap.
TV Streaming Service Guide



Launch List


Now then, since the show jumps back and forth between the years like it was a stone being skipped, I'm going to try to lay out what happened in as linear a fashion as I can. (Wish me luck.) In Episode No. 1, "Best Friends," we flashed all the way back to Alex's childhood and learned just how toxic her parents' marriage was — very — and how deeply affected she was by her mother's abandonment and her father's cruelty. By the time she was ready to flee from Daddy Dearest and move to L.A., he had declared her "a f—king black hole of need." Nevertheless, she later reestablished contact with him, leaving out key details of her relationship with Dan — like, say, his wife — and making plans to race home to Seattle following her ex-lover's attack.
After Alex's death, Dan explained to Beth that he was going to have to lie in court about the affair, lest his infidelity turn the jury against him. But his dirty laundry still wound up being aired when the prosecution called a surprise witness: Alex's "late" father, who had in his possession the telltale photo that she'd texted him from her day at the beach with Dan and Quincy. Finally, in the present, Ellen spied on Stella and discovered that she hadn't ended her affair with Professor Macksey, and Dan's application for a retrial was denied. He'd lied to the cops, he'd lied during his trial, and he'd lied at his parole hearing, the judge pointed out. So she was disinclined to give him another chance to grow his nose.
In Episode No. 2, "Caregiving," Beth, having made the mistake of sitting down with Alex, became increasingly unspooled as she realized the lengths to which Dan's stalker would go to have him. Arthur offered to do anything that he could to put Beth's mind at ease. But "what could you do?" she asked. "Make it so it didn't happen?" Seizing upon that idea, Arthur broke into Alex's apartment just as she was packing to run home to Daddy and assaulted her. As Arthur caught his breath, Alex regained consciousness and tried to reach for her cellphone, at which point he fatally bludgeoned her with a kettlebell and disposed of her body.
Following Dan's conviction, Arthur retained an attorney in hopes of coming forward and freeing his friend from prison. But since Arthur couldn't prove that he had done it, his confession would do no good; he'd just get thrown behind bars, too, for perjury. In the present, Ellen encouraged Dan not to give up on the idea of filing an appeal for a retrial. She even hugged her father. But all was not as well as it seemed. She'd ratted out Stella for her juvenile record and gotten her booted from school. Why? In a flashback to her kidnapping as a child, we learned that Alex had told her a hard truth — that her parents were lying to her. Alex's advice? "You let them think they're fooling you. You act like you believe them, but you never forget who they really are, and you never let them stop you from getting the life that you want. And if they try, you leave them. They don't get to leave you."
So in the present, Ellen had been pursuing with obsessive focus what she'd wanted all along: Macksey. The professor even came home to find her in his house rearranging words from recordings of his lectures to form an amorous message to herself. "I feel like you're mad at me," she said, sounding altogether like Alex. "Are you mad at me?" Fun ending, no? Grade the finale as well as Season 1 of Fatal Attraction, then hit the comments. Would you come back for a second season?
Source: Read Full Article