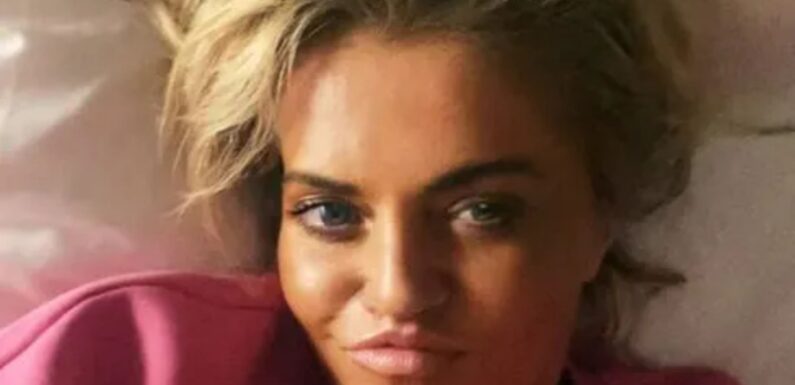 DANNIELLA Westbrook has teased a new romance after cuddling up to a bareknuckle boxer in bed.
The actress,  49,  shared a video of herself lying between the sheets with ex con Ben Hatchett – just weeks after confirming she was back with her fiancé.
In the video, a giggling Danniella says: "Guess what, do you want to know a secret?"
She then pans over to Ben who laughs: "The cats out the bag."
Danniella adds: "It's official."
She later shared another video and claimed it was an old video taken 'years ago' and she thought she was just sending to him as she insisted they are just friends.
More on Danniella Westbrook
Danniella Westbrook takes swipe at her daughter after she blocks her on Instagram
Danniella Westbrook flaunts unbelievable abs in a miniskirt and crop top
The former EastEnders star was engaged to marry David, who is currently in prison.
But she appears to have moved on with Ben, who served time alongside monsters Ian Brady and Yorkshire Ripper Peter Sutcliffe at Broadmoor Hospital.
Ben, 33, was convicted for knife crimes as a teenager and was sent to Broadmoor after an attempt to escape from prison aged 21.
After a few years, he was moved to another high-security facility at Ashworth Hospital, near Liverpool, but was released in 2020 and has turned his life around, now working as a boxer and running a successful YouTube podcast called Let's Be Real.
Most read in Celebrity
RUN FOR THE HILLS
What really turns Hollywood's biggest stars into screen-shy hermits
making a splash
Katie Price defended by fans after she's mum shamed over paddling pool
sore spot
Danniella Westbrook takes swipe at her daughter after she blocks her on Instagram
sheer anger
Ed Sheeran CANCELS Las Vegas concert just hours before he's due on stage
He previously dated Jessie Wallace's half sister Danielle Mason after inviting her on his podcast and having their first date in Broadmoor.
Danniella meanwhile had told fans she was back with her on/off partner David just last month as he prepares to leave prison.
The Sun understands he has been serving time for counterfeit goods and engaging in various physical altercations.
The Sun has contacted Danniella's rep for comment.

Source: Read Full Article