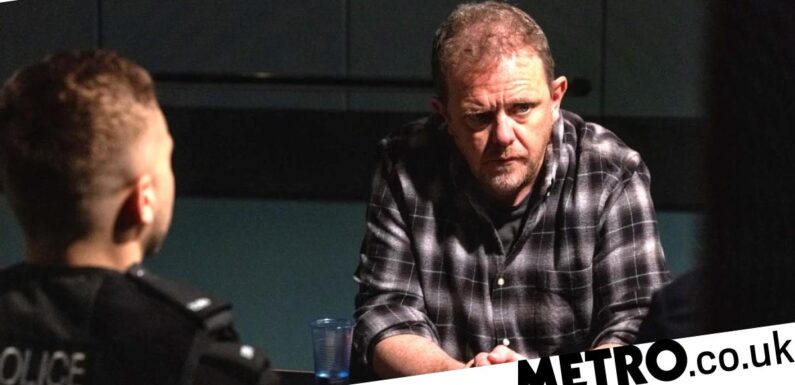 A foolish and violent action from Dan Spencer (Liam Fox) has terrible consequences for him in future Emmerdale episodes as he's charged with GBH – and faces a very long time behind bars.
Amelia (Daisy Campbell)'s social media activities at first seemed like a good idea. She was getting a lot of followers, some good publicity for the salon and was starting to make money. It wasn't long, though, before it became apparent that among her regular followers was a man called Lloyd (Matt Sutton), who was taking an unhealthy interest in Amelia.
Lloyd's creepy messages and requests for more access to her understandably disturbed her dad when he heard about it and when Lloyd turned up at the salon and terrified Amelia, Dan insisted on reporting him to the police. When they said they couldn't do anything, Dan made threats towards Lloyd himself, warning him in no uncertain terms to keep away from his daughter.
To view this video please enable JavaScript, and consider upgrading to a webbrowser thatsupports HTML5video
'That's the thing with Dan,' Liam Fox explained to us. 'He's always been about the family so if someone messes with them that's when he flips from being a nice guy to having to deal with it. For his daughter he'll do anything.'
We've already seen exactly what Liam means after viewers saw Dan witnessing Lloyd and Amelia leaving the church together and confronted his daughter's stalker, punching him and causing some serious damage.
Following his arrest, Dan decided to lie and say he was acting in self defence – but as events move forward, he finds himself in deeper and deeper trouble.
Against Amelia's warnings that he needs to keep his head down, Dan can't help but go to the hospital to see how Lloyd is.
'He's just panicked, really,' Liam told us. 'Worried about where this could potentially go. He wants him to be all right because the gravity of the situation's started to become apparent.' At the hospital he finds Lloyd in a coma and meets Julie, Lloyd's wife.
After leaving the hospital he realises Amelia was right and he's made things look a lot worse by going to check on Lloyd. This is confirmed when the police start to cast doubt on his entire story, as apparently there is nothing on Lloyd's phone to indicate that he's broken any laws.
Dan is charged with GBH and he's terrified of what might happen next. While Cain (Jeff Hordley) and the rest of the villagers rally round to support him, it's clear that Dan is facing a very serious charge, and nothing he's said to the police so far has done anything but make the situation worse.
In deep despair he takes to the bottle and wanders through the woods drinking whisky. David (Matthew Wofenden) finds him and Dan admits to him that a stupid moment of madness could have ended his freedom – and his ability to look after Amelia and Esther.
Even worse, he knows that it's touch and go as to whether Lloyd pulls through and it's entirely possible he could soon be facing a murder charge.
A cricket-based session of Man Club is hastily arranged, with Cain, Paddy (Dominic Brunt) and Vinny (Bradley Johnson) all reminding Dan that they're on his side. But any comfort he gets from that is dashed soon afterwards when Lloyd's wife Julie arrives at the Woolpack – and Dan is devastated by what she has to say.
Could he be heading to prison?
Source: Read Full Article