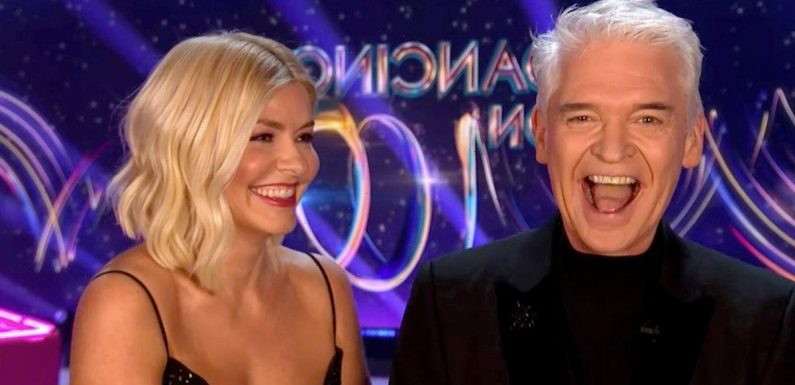 Serving as one of Britain's most popular TV twosomes, Holly Willoughby and Phillip Schofield often give Ant and Dec a run for their money as viewers enjoy their friendly on-screen dynamic.
The dynamic duo have fronted ITV's This Morning together since 2009, with Phil joining the sofa for the first time in 2002, taking over from John Leslie and presenting with Fern Britton.
After she left in 2009, Holly Willoughby took up the reins, having worked with Phil on Dancing On Ice.
READ MORE: This Morning Phillip Schofield forced to apologise after Holly Willoughby blunder
But as the two continue to partner up on some of the UKs biggest shows, a series of awkward moments have creeped into their squeaky-clean TV gigs.
Let's take a look and some of their on-screen gaffes.
Awkward Handover
The ITV pair were back at the rink as they hosted an episode of Dancing On Ice earlier last month.
But the pair suffered an awkward hiccup live on air as the contestants grappled with their performances for prop week.
Viewers of the ITV skating competition had a little laugh before the results were revealed as the This Morning co-hosts split up, with Phil heading off to chat to some of the contestants about their performances.
As he finished, he declared: "Over to Holly," who wasn't quite expecting to be needed so soon.
She was then heard whispering: "No," in response, suggesting Phillip may have handed over to his fellow presenter too early or that Holly still wasn't in her position to chat to the celebrities friends and family.
Ever the professional, Phil, 59, quickly moved on and teed up a preview of next weekend's show.
While they seamlessly tried to move on, viewers couldn't help but comment on the mishap on social media.
One said: "Haha, even the veteran presenters can mess up sometimes!" Another joked: "@dancingonice is it just me who's howling at when @Schofe goes to cut to @hollywills & she goes 'no!' sake phillip, NAW MAN!!!"
Screen Hog
While the pair were again fronting Dancing On Ice, it seemed Phil was gagging for the spotlight after he appeared to block Holly Willoughby from camera view as he took over an interview with the contestants.
As the co-stars chatted with the stars on their left, Holly made sure to step back so she didn't get in Phil's way during the chat.
However, Phillip was seen turning his back to Holly as he stood in front of her so she couldn't talk to the stars on their right, leaving her to awkwardly peer over his shoulder.
Fans immediately took to social media to comment on the awkward interaction, saying that this was a sign of heightened tension between them.
One fan wrote: "The 'banter' between Holly and Phil isn't landing this week."
Another agreed: "They don't seem as friendly together as they used to. The bond seems to be missing."
A third chipped in: "Everything about this show is mega awkward tonight."
The pair have spoken out about the rumours that they have fallen out off-camera, and insist their friendship is "as strong as ever".
Missing In Action
As the pair returned to their usual hosting duties on This Morning after a two month break, an awkward moment ensued after they failed to appear on screen for the show's intro.
As the cast of Mary Poppins took over the show, with the two presenters nowhere to be seen in the opening moments. as the show kicked off with a performance from the hit West End musical.
Phillip finally made his entrance through a door, armed with a chimney sweep brush and a rather dodgy Cockney accent.
He then delivered a Dick Van Dyke-esque line to introduce Holly as she floated down from the sky, with some help from CGI, in an arrival reminiscent of Julie Andrews' famous Disney character.
Despite the effort, fans found the scene very awkward.
"Not this Mary Poppins c**p again ffs," with another writing: "I love Mary poppins but they just murdered it."
Boozy Blunder
The pair found solace in their festive cocktails and bucks fizz after suffering a majorly awkward encounter with This Morning guest Aled Jones.
In a special Christmas episode, Holly and Phil were joined by joined by guests including Leona Lewis and Aled Jones.
But the TV twosome were met with an awkward moment when Aled appears, thinking he was booked to open the show.
Aled said: "I've come to get the Christmas show on the road. It's taken loads of rehearsal but I'm ready to bring – wait for it – Walking In the Air back especially for you two…"
Before the track could fully kick in Phillip said, "Um, Aled, I'm sorry, there's a possibility we might have to stop there for a second… I'm sorry, but we've actually booked Leona Lewis! Someone should've told you."
Trying hard not to laugh, Aled said, "So you don't need me? Maybe I'll just go back here and carry on rehearsing… you never know… [singing in a high pitched tone] We're walking in the air…. Still got it!"
For more of the latest showbiz news from Daily Star, make sure you sign up to one of our newsletters here.
READ NEXT:
Holly Willoughby divides Dancing on Ice fans as she steals show in 'Cinderella' dress
Phillip Schofield teases saucy nickname as he writhes around on This Morning
This Morning 'scraping the bottom of the barrel' as viewers fume over interview with duck
Source: Read Full Article