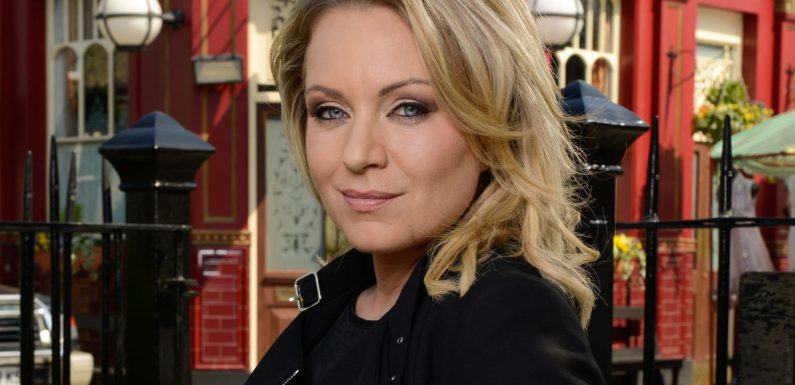 EastEnders' legend Rita Simons has spoken out about how she was "rescued naked from a bathroom" amid a medical emergency.
The Roxy Mitchell star, 46, was filming her TV comeback for reality series Pilgrimage when she got stuck in the toilet and called on a co-star for help.
Pilgrimage is a TV series that sees a group of celebrities of different faiths trekking together on a historical pilgrimage.
READ NEXT: EastEnders' Melissa Suffield leaves fans 'obsessed' after baring curves in swimwear
Tackling a 364km pilgrimage over 15 days, the Rita and the other six celebrity pilgrims travel through the heart of northern Portugal's stunning landscapes.
But the expedition proved to be a challenge for Rita – who suffers from scoliosis, which causes curvature of the spine and mobility issues.
During an awkward incident, Rita got stuck in a toilet while staying in a hostel along the pilgrimage route.
Speaking to The Sun's TV Mag, Rita revealed all when she said: "One night we got back to our hostel and I was naked in the bathroom with Su [Pollard], as you are, and I just remember looking in the mirror and I was like, crack: 'Oh Su, I'm stuck.'
"I was stuck on the side," she explained.
Adding: "I have quite bad scoliosis, so my spine is S-shaped and it's really not great. It hurts a lot of the time."
Rita went on to say that the crew were "amazing" and would stop to help her if she needed it throughout the pilgrimage.
This comes as Rita said it was "refreshing" to explore her Jewish faith and heritage on the BBC Two programme.
As well as starring alongside comedian Su Pollard, Jewish actress Rita could be seen alongside the likes of ex Boyzone member Shane Lynch and Paralympian skier Millie Knight.
She told OK! magazine: "It was refreshing to be asked to do something where we're talking spiritual ideas and culture.
"You're literally digging into someone's soul when you're asking about their faith."
Rita – who is Lord Alan Sugar's niece – is best-known for portraying Roxy in EastEnders.
On January 1, 2017, Roxy (Rita) and her sister Ronnie (Samantha Womack), tragically drowned in a swimming pool – leaving fans devastated.
For more of the latest showbiz news from Daily Star, make sure you sign up to one of our newsletters here.
READ NEXT:
EastEnders' Melissa Suffield told to 'stop dancing around in underwear' by cruel trolls
EastEnders' Lucy Beale star rules out return as ghost as she's 'shut door' on acting
EastEnders' Melissa Suffield leaves fans 'obsessed' after baring curves in swimwear
Source: Read Full Article