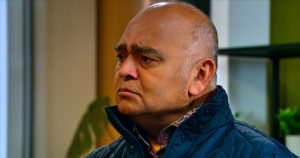 To view this video please enable JavaScript, and consider upgrading to a webbrowser thatsupports HTML5video
Emmerdale legend Bhasker Patel has been speaking about his shock exit from the soap as Rishi Sharma.
Rishi lost his life in Thursday's (July 27) edition of the ITV soap. The beloved character was seen dead at the bottom of the stairs, moments after he was preparing to attend Jai (Chris Bisson) and Laurel's (Charlotte Bellamy) wedding.
It was a massive twist that left Emmerdale viewers stunned. Rishi has been a resident of the village for over a decade and his sudden death was a firm reminder that life is short, and things can change within seconds.
For Bhasker, when he got the news that his character would be killed off, he reflected on how much his life has changed since joining Emmerdale, and knew that it was the right time to depart:
'For 12 years [on the show] and prior to that I've been a jobbing actor since 1980 and then getting a job like this was like a god send', he told Christine Lampard during Friday's (July 28) episode of Lorraine.
'When the producer rang me they said, we need to talk to you and we are killing you off because we want a big story and we want it to be a big surprise.
'I felt part of ITV and part of Rishi. When producers said they were going to kill me off I thought, that part of my life is over and I am going to move off.'
Chris Bisson, who plays Bhasker's on-screen son Jai, has also been thinking about losing Rishi and what that means for his character.
'Jai's speech at the reception was really about his dad and how he wanted things to be right,' he told Metro.co.uk.
'How life is too short and how we should all make the most of it and enjoy what we have. So, the next day of course he's going to be very very upset on discovering his father.'
'Not just the sadness of losing his dad but the circumstances. Because they hadn't had a chance to resolve things.'
Chris also said that he thinks it's important for Emmerdale to show shock outcomes such as this one, adding that it would be 'nice' if audiences could 'take something away' from it.
'Maybe resolve a difference that they have, before it's too late,' he added. 'It would be nice to think the show could have a positive effect. Life really is too short.'
Source: Read Full Article