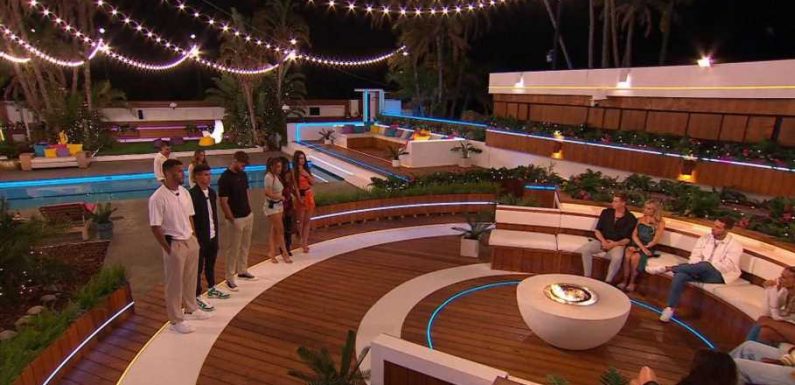 LOVE ISLAND will air a double dumping tonight with two stars leaving the villa in South Africa.
Clips from tonight's Love Island on ITV2 show the moments before the unlucky pair are told their fate.
Tanya, Anna-May, Tom, Haris, Kai and Tanyel all standing before their fellow Islanders.
And Australian bombshells Jessie and Aaron are tasked with sending two of them home.
Jessie, 26, whispers: "Love you guys" before striding across the garden with Aaron to make their decision.
She adds: "I'm so nervous" while Aaron assures her: "So am I, I've got no idea, I don't even know where to start."
READ MORE ON LOVE ISLAND
Love Island viewers all have same complaint about show after Haris is dumped
7 signs feuding Love Islanders' 'fake-up' was red flag, says body language pro
Aaron and Jessie feel the weight of their decision when talking about one of the boys.
Jessie says: "He's like one of my best friends in here".
Aaron replies: "I know, I actually like all of the guys, but you can't think like that."
Jessie says: "Ok, let's break this down" as Aaron finally asks her: "What's your decision?"
Most read in Love Island
Pregnant Dani Dyer reveals her due date after revealing identical twins
Jessie & Aaron left with tough decision as Love Island fans share fears for Will
Love Island fans in tears as Will kisses Jessie amid night of passion
Proof Love Island rivals Zara and Olivia knew each other before the show
Jessie shot to fame during the 2019 series of Love Island Australia but shocked fans alongside Aaron when they entered the villa in South Africa at the weekend.
They were told last night that they had the power to send two of the least popular Islanders home.
The Sun already revealed Haris has lost his place in the villa and will be one of the pair to be sent packing after a video emerged of him punching a man in the street.
The Love Island star, 21, was filmed punching a man twice, while being egged on by the person behind the camera.
Hi dad, Mehedin Namani, has now spoken out to defend him and revealed the altercation took place two years ago with the pair are now pals.
Love Island airs tonight at 9pm on ITV2 and ITVX.
Love Island 2023 cast revealed
Here's your rundown of the 2023 Love Island contestants
All about Bond actress Olivia Hawkins
The villa's first partially-sighted star Ron Hall
Who is Tanyel Revan?
Everything to know about Kai Fagan
Make-up artist to the stars Lana Jenkins
Who is TikTok farmer Will Young?
All about science student Tanya Manhenga
Everything to know about Shaq Muhammad
Who is Love Island's Anna-May Robey?
All about Haris Namani
Bombshell and footballer Tom Clare
Who is Love Island bombshell Zara Lackenby-Brown?
Australian beauty Jessie Wynter explained
All about Aaron Waters
The full Love Island cast revealed

Source: Read Full Article