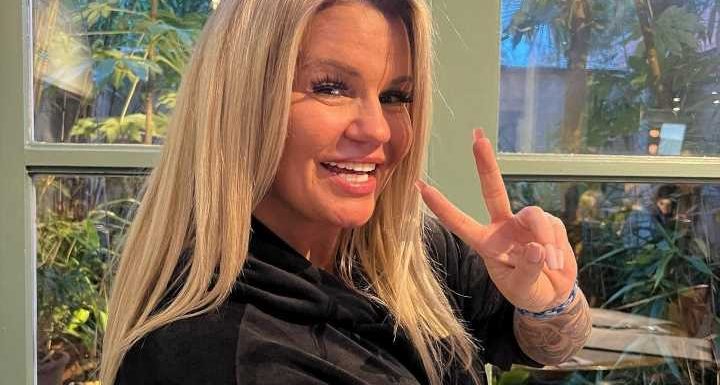 KERRY Katona has revealed she has no regrets and insists she hasn't made any mistakes, they are  just "lessons".
The 42-year-old candidly opened about her drug addiction, failed marriages and money troubles and reflected on how far she has come despite such a rocky childhood.
Speaking on GB News last night, mum-of-five Kerry said: "People say do you have any regrets? I have no regrets. I don't regret the drugs, I don't regret the bankruptcies, I don't regret the husbands.
"I've not made any mistakes, they've all been lessons and we're all human. The only thing is all my lessons have all been in the public eye."
Kerry went on to explain: "I was a product of an affair, I was in four sets of foster parents and refuges. 
"The fact that I've achieved what I have achieved is pretty phenomenal. I'm really proud of myself. 
Read More on Kerry Katona
Kerry Katona breaks silence after Katie Price OnlyFans 'swipe'
Kerry Katona's daughter with Brian McFadden stuns as she turns 20
"I've been bankrupt twice, I've come from nothing, but I've gone back to being a millionaire again, not that all that matters. The money in your bank, the size of your house, the cars on your drive, the one thing I've realised is that your riches are in the memories you create with your family. 
"That's one thing I've learnt but I am driven by always making sure that my kids are provided for."
Kerry is mum to Molly-Marie, 21, and Lilly-Sue, 20, from her marriage to Brian McFadden and Heidi, 16, and Maxwell, 15, from her second marriage to Mark Croft. 
She also has Dylan-Jorge, nine, from her relationship with the late George Kay.
Most read in Celebrity
Inside Zoe Ball's £1.5m home after son claims she financially 'cut him off '
Pregnant Jessie J bares growing baby bump in daring pink outfit
Vanessa Feltz fights back tears as she breaks her silence over split
Heartbreaking way Vanessa Feltz found evidence fiancé Ben Ofoedu was 'cheating'
Discussing her role as a mother, Kerry said: "I've always just wanted to be a mum and a wife but saying that I'm too driven to be a stay at home mum now. 
"I love my kids, but I am a grafter, I'm a worker. I'm driven and I'm ambitious, I'm determined and I'm resilient and I do love to work, and that's the reason I do it; for my kids. 
"But definitely the reason I wanted to be at home was because of my own childhood. I love my mum to bits but it wasn't the greatest of childhoods.
"I get on great with my mum and I love my mum to bits, but my mum was a self harmer and she had a lot of mental health issues and drug issues and I ended up in a foster home. My mother was with abusive men."

Source: Read Full Article