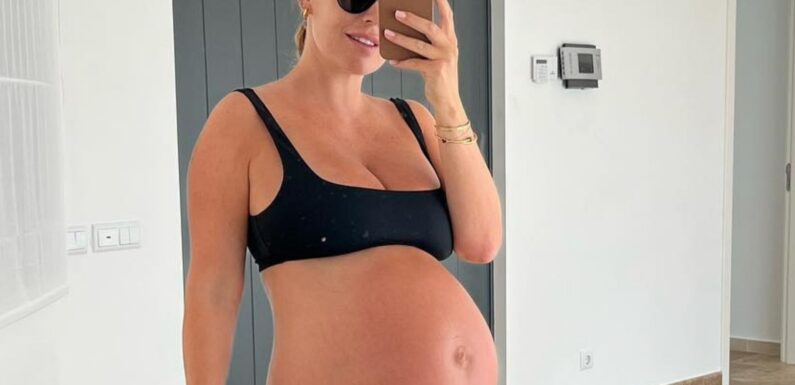 KATE Ferdinand has hit back after she was accused of sunburning her baby bump.
The 31-year-old, who is expecting her second child with Rio, shared a series of snaps from her holiday and her very bronzed body.
But the images left some fans concerned, with one person writing: "Your bump sunburnt."
Another added: "Sunburned." While someone else said: "I thought this too! Looks sore."
Kate quickly hit back, telling the trolls: "I'm not sunburnt at all, my belly is just much browner than the rest of my body!"
The star is currently counting down the weeks to give birth after revealing that she is 33 weeks pregnant.
Read More on Kate Ferdinand
Pregnant Kate Ferdinand shows off huge baby bump in black bikini
Kate Ferdinand reveals her due date as she shares new picture of growing baby bump
Former Towie star Kate became stepmum to Lorenz, 16, Tate, 14, and Tia, 12, after getting together with ex-England and Manchester United ace Rio Ferdinand and marrying in 2019.
His first wife Rebecca Ellison died of breast cancer in 2015, aged 34.
Kate is currently expecting their second child, a little girl.
She met Rio in Dubai in 2016 and later moved in to Rio's home in Kent, where she struggled as she tried to help him and his kids navigate their grief.
Most read in Celebrity
This Morning's Alison in tears as she speaks out on Phillip Schofield interview
Phillip Schofield confirms age of his young lover when they first met
If it hadn't been for daughters I wouldn't be here, says Phillip Schofield
Holly, I'm so sorry I lied to you, says Phil – as he admits pair don't speak
She has recently written a book about her experiences of being a step mum.
Explaining her decision to do so, she told The Sun: "I had no idea how much time and effort it would take to create a fully blended family.
"I struggled with being a stepmum at first, partly because I had no one to share my experiences with and felt that no one understood what I was going through.
"Although sometimes our life may look perfect, I can assure you it's not.
"I'm so grateful now for my big blended family with another – baby girl on the way this year – but it's been one hell of a journey to get here."

Source: Read Full Article