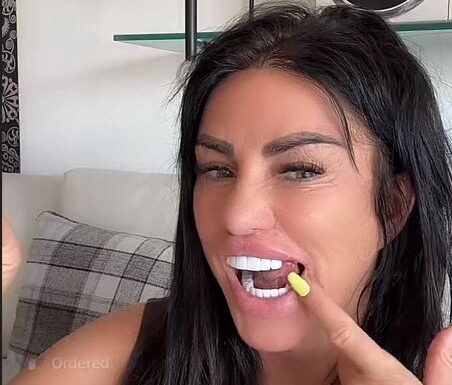 KATIE Price showed off her gappy smile this morning after one of her veneers fell out as she filmed a TikTok live.
The 45-year-old held her jettisoned tooth up to the camera so that fans could see, before poking her tongue through the gap it had left.
Fans comforted her by pointing out that at least it was from the rear of her mouth instead of one of her front teeth.
Others weren't so kind with one stating it would "give them nightmares".
Katie's had numerous issues with 'Turkey teeth' over the years.
Back in 2020 she needed to get two veneers replaced after they fell out of her mouth.
READ MORE ON KATIE PRICE
Katie Price back with Range Rover after cops snatched her car due to no licence
Katie Price fans all say the same thing as she shows off huge boob job
Three years prior to that her mouth was left full of ulcers after she had temporary veneers put in as part of a huge teeth overhaul.
Just days ago Katie revealed her phone's facial recognition system no longer works after her latest cosmetic procedures.
Talking on her The Katie Price Show podcast, she said: "When I went to Turkey, underneath the nose I wanted a lip lift.
"You know when people get their lips done, this is a different way where they cut under your nose and lift your lip. But the scar was horrific, so I had the scar redone and at the same time, I said you might as well give me a nose job because I thought it looked a bit wonky where they ballsed it up.
Most read in Celebrity
Harry Styles flashes 'tattoo dedication to ex Olivia Wilde' on boat trip
Louise Redknapp fans can't believe her real age as she poses with grown up son
Martine McCutcheon looks slimmer than ever in Mallorca
Katie Price fans all say the same thing as she shows off huge boob job
"But I can't see any difference with my nose at the minute. But it's still swollen and I've got stitches inside."
Katie's mum begged her to stop going for surgery after she showed off the brutal results of her nose job.
Amy Price chatted to TalkTV host Vanessa Feltz, 61, about Katie's habit of going under the knife.
Vanessa asked her: "As her [Katie's] mum, I wonder how you feel each time she goes under the knife?"
Amy candidly replied: "I absolutely hate it and she knows it.
"I think she… and I got her to admit it the other day as [I said] 'You've got body dysmorphia.' I don't know what it is.
"You know you look alright but why do you think you need to tweak this, tweak that or have a tattoo or change her hair?"
The NHS describes body dysmorphic disorder as: "A mental health condition where a person spends a lot of time worrying about flaws in their appearance."
In the chat, Amy added: "I think when there's moments of upset or she's not feeling right or she needs comfort in a way or hurt that's what she does because she thinks she's in control of herself."

Source: Read Full Article