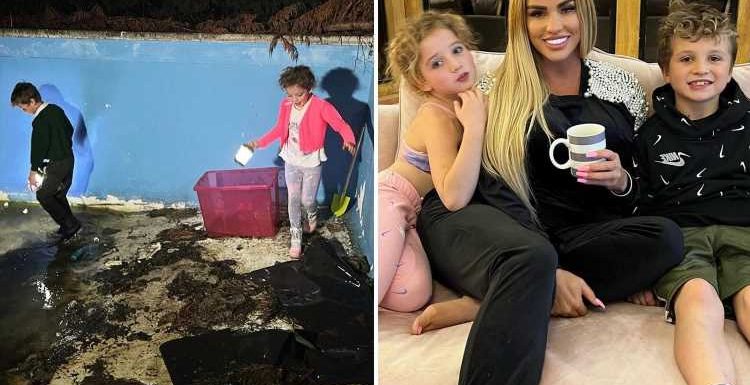 KATIE Price has shown off the swimming pool at her Mucky Mansion – as she hunted for frogs with children Jett and Bunny.
The 43-year-old shared clips of Jett, seven, and Bunny, six, searching for the creatures in a new YouTube video and fans loved seeing them having so much fun.
In the video former glamour model Katie reveals plans to fix the pool up, and says: "Jett just loves going in this swimming pool. I've eventually got to get all this done."
The mum-of-five is then seen sitting on the side of the pool while Jett and Bunny search through the sludgey bottom.
At one point Bunny is seen proudly holding up a slow worm she finds, while Jett discovers a baby frog.
One person commented: "It's good to get dirty!"
And someone else said: "I love seeing kids playing outside and just being children."
But, while the kids were definitely having a great time, some of Katie's fans were left horrified by the state of the swimming pool.
Most read in Showbiz
baby no 6?
Katie Price fans think she's pregnant after spotting 'bump' in pic with Harvey
TV star's brother charged with child sex offences leaving celeb devastated
Bronski Beat star Steve Bronski who found fame in 1980s dies aged 61
Charlotte Crosby held by cops in Dubai after officials find sex toy
One wrote: "It looks like they are in a Dirt Nasty Old Swimming Pool..?? WTF."
Another shocked follower asked: "Is that you're swimming pool ?."
And a third responded: "More like a cesspit."
It's not the first time Katie's pool has come under fire. When the Mucky Mansion – which Katie bought in 2014 for £1.3m – appeared on Through the Keyhole, host Keith Lemon compared it to a swamp.
Katie later made a YouTube video to hit back at Keith, saying: "I'm going to clear up some rumours about my mucky mansion and house. It's ridiculous."
She insisted that her pool is a "bit better" than a swamp.
Source: Read Full Article