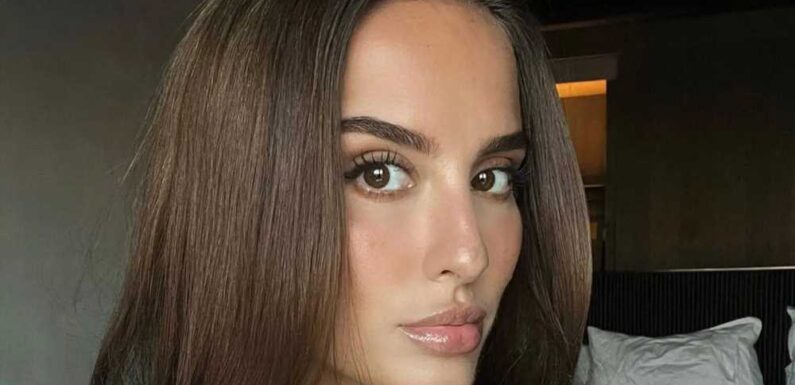 PREGNANT Lucy Watson has slammed claims that her vegan diet caused her fertility issues.
It comes days after the former Made In Chelsea star, 32, announced she is expecting her first child with husband James Dunmore.
Posting a picture of James cradling her baby bump, Lucy wrote: "Our little miracle."
On Thursday she updated fans with her pregnancy journey so far and revealed her "painful" battle to conceive.
The reality star admitted she had received "years of bad news" before falling pregnant. 
During an Instagram Q&A, one fan asked: "How is like being vegan and pregnant? Will you raise your baby vegan?"
READ MORE ON LUCY WATSON
Being called a skeleton made me so self-conscious, says Lucy Watson
Made In Chelsea's Lucy Watson posts wedding pic after marrying James Dunmore
Lucy admitted she has previously been questioned about her vegan lifestyle, from fans who say it could have a link with her fertility.
Hitting back, she wrote: ''So many questions about veganism, whether I'm still vegan etc… for me veganism is a promise I made to the animals, one I will never break. no matter what.
"In terms of my diet, I've made a conscious effort to eat less processed food and more whole foods.
"Also – protein. I made sure I got at least 60g a day, protein is the building blocks of life and essential to grow a baby.. 
Most read in News TV
WEDDING HELLS
MAFS' Nathanial feels 'broken' as his marriage with Ella is on the rocks
COME DANCING
Strictly lines up movie-length epic as 1st live show start time revealed
ACTOR'S LEGACY
TV legend left almost £500k in his will to wife after battle with cancer
OUT OF STEP
Amanda Abbington 'threatens to quit' Strictly after clashes with pro Giovanni
"Very achievable to get everything you need on a vegan diet, you just need to make a conscious effort, such as with any diet, to meet all nutritional needs…"
She then insisted her veganism was not to blame, saying "some crack addicts get pregnant".
The cook book author continued: "I have also been taking the ritual prenatal throughout lead up to conception and now being pregnant. I've had many people along this journey tell me you need to give up the vegan diet, it's stopping you getting pregnant etc…
"That is not the case, and for anyone else dealing with the same doubts, I can assure you it is and can be a very healthy approach to pregnancy.
"There are people who are crack addicts and get pregnant, being vegan is not going to stop you.
'And yes, our baby will be vegan."
Lucy gave fans a glimpse of her blossoming baby bump in her baby annoucement post on Wednesday.
Her famous pals rushed to congratulate her, with Towie star Georgia Kousoulou writing: "Oh my lovely news."
Lucy's sister Tiffany said: "I'm so happy and excited, can't wait! Love you both so much."
The former MIC star met her husband James on the E4 set in 2015 and they tied the knot in Greece in 2021.
Lucy appeared on Made In Chelsea for four years before calling it quits in 2016 following a huge bust up with Stephanie Pratt.
During her time on the show she had romances with Spencer Matthews and Jamie Laing.
Earlier this year vegan Lucy hit back after being cruelly skinny shamed – and opened up about raising her future children vegan.
She told us: "If I was ever a bit heavier, I'd get body-shamed for that or my cellulite.
"It's really hard being a woman in the public eye and people commenting on your weight 24/7.
When my husband, who is vegan, and I have children, I'll continue to be vegan through pregnancy.
"Friends have done the same and their babies are amazingly healthy and strong.
READ MORE SUN STORIES
Matt Hancock PUNCHED in face by footie star in first episode of Celeb SAS
MAFS UK's Laura was on another HUGE reality show before E4 programme
"We also plan to raise our children vegan.
"People say we'd be forcing them into something, but I'd say that to eat an animal is more of a choice than to not."

Source: Read Full Article