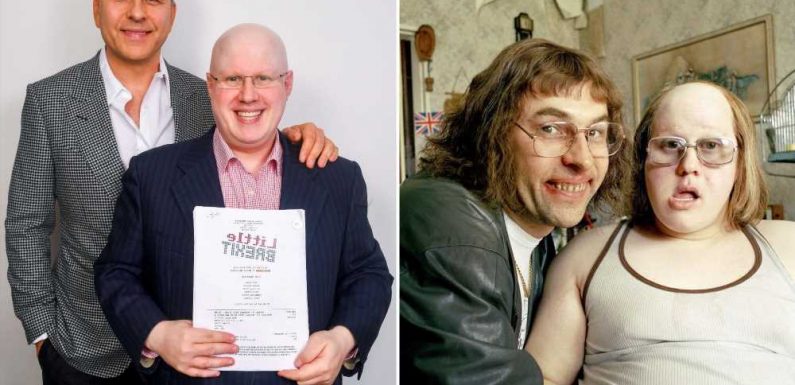 MATT Lucas says that his and David Walliams' new comedy series will feature all new characters and that will be played by a "diverse" cast and not just them.
The comedy partners are back working together for the first time in over 20 years on a new show which will introduce audiences to a whole new range of catchphrase spouting sketches.
Matt and David have come under fire in recent years for their characters in the hugely popular Little Britain – which aired in the early Noughties – with the series removed from streaming platforms like Netflix and BBC iPlayer due to their blackface sketches and other offensive humour.
Matt insists he and the former Britain's Got Talent judge David have already decided that they will hire actors who are representative of the characters they create to play them even though that means that they will have less parts to play, because they both accept that the world has changed and it is not acceptable any longer for them to mock people of colour or the trans community.
He said: "We know how Little Britain is perceived. I totally accept that there are all different opinions on this.
"I accept that some people feel very differently to other people and I respect everyone's opinion from wherever they come from on this subject.
Read More on Matt Lucas
Inside Matt & David's plans for new Little Britain including major change
Matt Lucas makes final appearance on GBBO as fans all say the same thing
"I see things differently now to how we did and things have changed and I respect that. I feel my job is to listen now about how people feel about that stuff, it's not about talking, for me it's about listening.
"The show that me and David are trying to develop will be different in many ways, it will be similar in some ways but at the very beginning of the creation of the show we have talked about how we can diverse talent on screen and in the writers room and conceive it as something that isn't just about me and David playing absolutely everyone.
"This will be built into the show from the beginning, which is something we should have done but didn't do back then. But we were making those shows at the same time as many other people who were doing what we doing and had that approach.
"I'm not going to say that we should be making shows now, the way we made them then, because I don't think we should, things are different.
Most read in TV
Chaos at ITV as host pulls out minutes before live show
Horror moment Dan Walker knocked out after being hit by car & flung from bike
ITV series returning for new series after years off screen – with major twist
Massively popular sitcom is leaving BBC2 in huge shake-up after six series
"I can't say that LGTBQ people should have a voice, that Jewish people should have a voice, but not think that it's important that other people don't have a voice."
Matt also revealed that for the first time in their career working together he and David are going to allow other people to write gags for the show, so that more voices are represented in their work.
He explained: "Traditionally it has just been the two of us, 10-5, just writing. I think now that I have Fantasy Football League and other things, while David writes four books a year, we're going to open this up and involve some other people in a way that we haven't done before, possibly have a writers room like they do in America.
"I think it'll be good because it will get other voices in there and they will come up with stuff that we haven't come up with.
"I think that probably the first episode of the show – and we haven't sold the show yet, we haven't pitched it, it might be that nobody wants to make it – we will write the first episode, just the two of us like old times, just the two of us making each other laugh and after that we will try and involve other people like we didn't do with our previous shows."
Matt, 48, has promised fans that the programme will feature all new comedy characters, as David, 51, quickly shot down a suggestion by him to bring back some of their most beloved creations.
He explained: "We did Little Britain and then after that we did a show called Come Fly With Me and we had a character that David did that says 'computer says no', it was brilliant, it was really pure.
When we decided to do a show in an airport we talked about having that character in Come Fly With Me, so you would go to the desk to try and check in for your flight and she's always the one there going, 'No.' But David said, 'No, we really should just do all new characters.' And, of course, he was 100 percent right.
Read More on The Sun
Boots makes big change to 2,247 stores pulling essential products from shelves
ITV confirms future of popular show after a year off screen
"Our new idea for our new show, at the beginning I said, 'Why don't we put characters from Come Fly With Me in it?' And David said, 'No, lets just do new characters.' And, of course, he's absolutely right.
"We've already decided what the show is, we've decided what the concept of the show is."

Source: Read Full Article