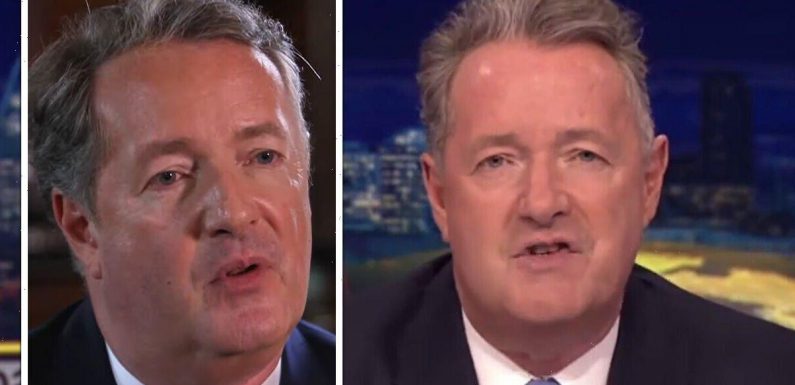 Piers Morgan says cancel culture is 'modern day fascism'
We use your sign-up to provide content in ways you've consented to and to improve our understanding of you. This may include adverts from us and 3rd parties based on our understanding. You can unsubscribe at any time. More info
After a year away from TV screens, Piers Morgan finally made his highly anticipated return to viewers' screens on TalkTV in his new show, Piers Morgan Uncensored. After introducing the show and informing viewers what they can expect to see on the first edition, he began his rant aimed toward what he called the "snowflakes" and "woke brigade" before telling them to not watch his show as it would allow for free speech.
After kicking off his show by referring to his world exclusive interview with Donald Trump, Piers turned his attention to how his new show will laud freedom of speech.
"I want to issue an urgent trigger warning. For all ultra-sensitive, permanently offended, woke snowflakes who may have accidentally tuned in tonight, you're not going to like this show.
"In fact, it's really going to annoy you. It may even provoke trauma because I'm gonna be constantly the one thing you can't abide by – free speech.
"And that's real free speech, not your kind of free speech where only your opinions are allowed, and anyone with a different opinion has to be shamed, abused and cancelled.
"Their careers and reputations destroyed. No, the free speech that is supposed to be the bedrock of any free democratic society."
He later threw his support behind viewers, telling them: "I'll always have your corner, I'll always have your back.
"Well, unless you're illiberal liberals who wreck anyone with an opinion that you've ruled as offensive.
"Or cancel crusaders rewriting history as one great sopping apology, conducting the Banish Inquisition, sailing the internet on your purity purge, stamping your extremist views on the rest of the world with no tolerance for discussion or debate.
"Nobody's right all the time, not even me, although my record is admittedly better than most. It's okay to be wrong. It's alright to evolve your opinions when things change.
"Whether you live in America, the UK or Australia, it's time to get back to democracies. Silencing, censoring and no-platforming and cancelling people who don't agree with you isn't democratic or liberal, it's actually a form of modern-day fascism.
"I've always loudly and proudly stood up for civil rights, gay rights, women's rights and trans rights, I always will.
"I believe in fairness and equality for everybody, but that hasn't stopped the woke brigade branding me racist, sexist, transphobic, and that's some of the nicer things they call me.
"All spewed from people with that disingenuous Be Kind hashtag in their Twitter bio. There's nothing kind about these people.
"These are dangerous times for democracies built on free speech, we've regressed thousands of years," he concluded.
Applauding his speech, viewers took to Twitter to praise Piers, with Marc Higgins commenting: "I have to admit, @piersmorgan opening monologue on @TalkTV is absolutely fantastic!!"
Aran Kay applauded: "@piersmorgan, the new show is brilliant, well worth the watch #PiersMorgan."
Steven James said: "What a speech! Nice to have a straight-talking and honest talk show host back on my screen! Welcome back, Mr Morgan!" (sic)
Piers went straight into what he described as a "bombshell" interview with Donald Trump, where they discussed the war between Ukraine and Russia, the Royal Family and his potential to run as president once again.
Before Piers' show, Tom Newton-Dunn kicked off TalkTV's launch and promised viewers a "straight-talking" channel that tackles the biggest news stories of the day.
However, within seconds of the show airing, it suffered technical and sound issues, which annoyed viewers.
Piers Morgan Uncensored airs Monday from 8pm on TalkTV.
Source: Read Full Article