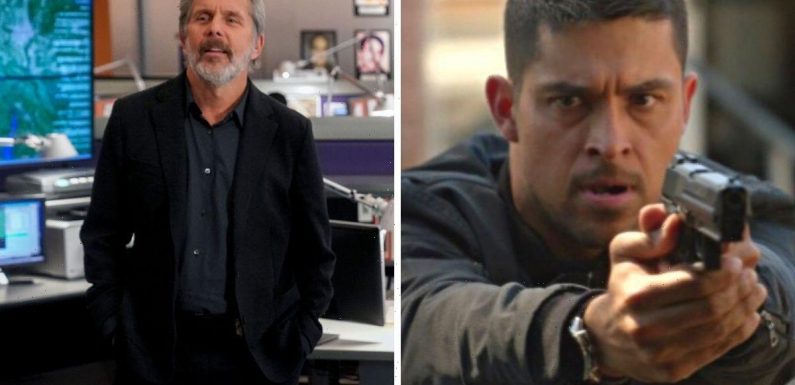 NCIS: Teaser for episode 'Evil Eye'
We use your sign-up to provide content in ways you've consented to and to improve our understanding of you. This may include adverts from us and 3rd parties based on our understanding. You can unsubscribe at any time. More info
CBS' long-running drama NCIS will make its eagerly anticipated comeback to screens with the skilled agents tackling yet another investigation. After a look at the upcoming harrowing episode, Nick Torres (played by Wilmer Valderrama) could be left taken aback by a shocking revelation.
Although the troubled agent had turned over a new leaf, Torres could find himself returning to old habits after a chilling case takes an unexpected turn.
The trailer for Evil Eye sees him and Alden Parker (Gary Cole) investigating the scene of a crime only to come across an old-fashioned gibbet post covered in blood.
As they inspected the seemingly abandoned building with flashlights, Torres noted: "The killer went full medieval."
The agents then spotted two corpses tied from the ceiling and hung upside down.
READ MORE: Gloria Hunniford gives health update after being rushed to hospital
Parker then told Torres: "We have a serial killer to find."
As the team worked together on the case, Director Leon Vance (Rocky Carroll) noted: "This guy's weapon of choice is either a guillotine or a bomb."
However, this seemingly takes a dark turn when Torres was searching the house and makes a call stating: "Man, it gets worse."
Although what he saw didn't appear in the promo, there was a major clue as he made the call in a nursery room.
Fans could be in for a major shock if a child becomes the killer's next victim and is found lifeless in the nursery.
Sadly, this could be the case as Torres looked stunned as he entered the room and took a moment to take in what he saw.
However, fans will have to stay tuned to see what the agent truly came across and if they will successfully be able to bring the criminal to justice.
As well as an intense episode to look forward to, CBS confirmed the former Lost actress, Taina Raymonde would also be making an appearance.
The summary for Evil Eye read: "In preparation for a role, a world-renowned actress shadows the NCIS team as they investigate a decapitation case."
While Taina's character remains unnamed, her presence could provide some light-hearted fun to the episode.
As the agents rarely come across famous people at work, fans will have to tune in to see how Alden, Timothy McGee (Sean Murray) and the others will react, having a world-renowned actress in the midst.
Although it's yet to be revealed why she's shadowing the team, it could seemingly be for a role she's preparing for.
While last week's episode was more of a mystery, fans can expect more blood and gore in the upcoming instalment.
Many are also looking forward to seeing more of Dale Sawyer (Zane Holtz) and his bromance with Torres.
He made a return to screens last week and although the two initially butted heads, they became close friends by the end of the episode.
NCIS season 20 continues Mondays on CBS and on Wednesdays on Disney+ in the UK.
Source: Read Full Article