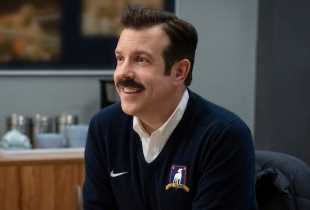 Apple TV+ is not ready to shout "Game Over!" to Ted Lasso fans, but the series' eponymous hero is painting a pretty clear picture that time is running out.
Ted Lasso Finale: 15 Burning Questions We Need Answered



Launch List


Ahead of the Emmy-winning comedy's Season 3 finale tonight, Ted Lasso himself took to social media early Tuesday to essentially bid farewell.
"A few years ago I hopped on a plane with Coach Beard headin' to a little town in London," the "character" reflected on Twitter, before announcing, "Tonight we play our final match. It's like what I say about the films of David Lynch. I can't tell you what's happenin', but I sure as heck don't want it to end."
Leading man/co-creator/EP Jason Sudeikis has said publicly that Season 3 marks "the end of this story we wanted to tell," although he has left the door open for the franchise to continue in some form, perhaps via a spinoff. (Officially, Apple TV+ is referring to Season 3, Episode 12 — which drops shortly before midnight — as a season finale; see: Exhibit A.)
"I think that we've set the table for all sorts of folks… to get to watch the further telling of these stories," Sudeikis told our sister site Deadline in March. "I can't help but take the question as flattery for what all of us that were working on the show has tried to do. It's really kind of folks to even consider that because you never know what's gonna happen when you make things. The fact that people want more, even if it's a different avenue, is lovely."
TVLine has reached out to Apple TV+ for comment.
Source: Read Full Article